Kishore Kumar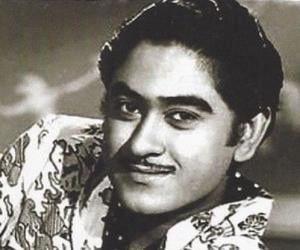 Quick Facts
Nationality: Indian
Famous: Actors Playback Singers
Died At Age: 58
Sun Sign: Leo
Also Known As: Abhas Kumar Ganguly
Born in: Khandwas, India
Famous as: Indian playback singer
Family:
Spouse/Ex-: Leena Chandavarkar, Madhubala, Ruma Guha Thakurta, Yogeeta Bali
father: Kunjalal Ganguly
mother: Gouri Devi
siblings: Anoop Kumar, Ashok Kumar, Sati Devi
children: Amit Kumar, Sumit Kumar
Died on: October 13, 1987
place of death: Mumbai India
More Facts
awards: Filmfare Awards: 1969
1975
1978

Continue Reading Below
The soulful voice behind many of the hit Bollywood songs of yesteryears' superstar Rajesh Khanna, playback singer Kishore Kumar was a unique and eccentric personality. A multifaceted personality, he was not just a playback singer, but also an actor, comedian, lyricist, composer, producer cum director. One of the most recognized and well loved male voices of Hindi cinema, Kishore Kumar was also a much emotionally unstable personality, a genius troubled by the weights of his own talents. Born as the youngest among the siblings into a wealthy Bengali family, Kishore's venture into filmdom simply happened by chance. In fact, it is nothing but a quirk of fate that the man who would one day become the voice of India's superstars did not even receive a basic training in music! He was just a young boy when his elder brother became an actor in Bollywood and the youngster followed his brother to Bombay where his brother helped him find work. How would a young boy without any training in acting or music face up to the challenges of the colorful world of Bollywood? He need not have worried. As fate would have it, Kishore soon became the darling of the masses and still reigns over their hearts years after his death.
Recommended Lists:
Recommended Lists:
Continue Reading Below
Childhood & Early Life
He was born as Abhas Kumar Ganguly in a Bengali family. He was the youngest of four siblings. His father, Kunjalal Ganguly was a lawyer and his mother Gouri Devi, too hailed from a wealthy family.

Abhas's eldest brother, Ashok Kumar became a famous Bollywood actor while Abhas was still young. Later on his another brother Anoop Kumar too joined Ashok. Abhas too became interested in cinema after observing his elder brothers. As a young boy, he was an ardent fan of the singer-actor K. L. Sahgal.

Recommended Lists:

Recommended Lists:

Career

Abhas was interested in music from a young age though he did not have any formal training. He followed his brother Ashok to Bombay and changed his name to Kishore as he embarked on a professional career.

He began his musical career as a chorus singer at Bombay Talkies. To make up for his lack of formal training, he practiced singing for hours and perfected a technique called "yodeling" which would soon become his trademark.

His brother Ashok wanted him to become an actor like him and helped him get some assignments. Kishore performed reluctantly though his sights were now not on an acting career but singing.

He began the 1950s by playing the hero in movies like 'Andolan' (1951), 'Naukri' (1954) and 'Musafir' (1957). Initially music directors like Salil Chowdhury were not willing to give him a chance to sing, but they changed their minds after hearing his melodious voice.

In 1958 he starred in the film 'Chalti Ka Naam Gaadi' which also had his two brothers in important roles. The female lead was played by the beautiful actress Madhubala.

Music director S.D. Burman once heard Kishore mimicking the great singer K.L. Sahgal. Burman realized that the young man was talented in his own right and should be developing his own unique style instead of copying others' styles.

Kishore's fortunes changed for the better after being discovered by Burman. He got the opportunity to sing for many films like 'Guide' (1965), 'Jewel Thief' (1967), and 'Prem Pujari' (1970), of which many songs became super hits.

Continue Reading Below

The 1970s and 1980s were a highly productive time for the playback singer who to belt out many lovely songs that became the favorites of millions of Indians the world over. During this period he sang for famous actors like Rajesh Khanna, Amitabh Bachchan, Jeetendra, Dev Anand, Anil Kapoor and many others.

Along with singing solos he also formed hit duet pairs with the singers Lata Mangeshkar and Asha Bhonsle. He also sang duets with Mohammed Rafi, another one of the great voices of Hindi filmdom.

Even though Kishore Kumar was a highly talented personality, he was quite eccentric by nature. Many times he would get into personal conflicts with actors and stop singing for them. He also had problems managing his finances.

Recommended Lists:

Recommended Lists:

Major Works

Considered to be one of the most successful male playback singers of Indian cinema , Kishore Kumar was a class apart. He sang not only in the Hindi language, but also in several other languages including Bengali, Marathi, Gujarati, Kannada, Oriya and Urdu.

Awards & Achievements

He was the proud recipient of eight Filmfare Awards for Best Male Playback Singer, the first of which he had won for the song 'Roop Tera Mastana' from the movie 'Aradhana' in 1969. The song was picturised on Rajesh Khanna, associating the voice of the singer with the superstar actor.

Personal Life & Legacy

His personal life had always been tumultuous. Throughout his life, he married four times. His first wife was Bengali singer and actress Ruma Guha whom he married in 1950 and divorced in 1958. The couple had one son.

His second marriage was to actress Madhubala with whom he had worked on many films. Their marriage ended with the actress's death in 1969.

He tied the knot for the third time with Yogeeta Bali in 1976. This marriage was too short lived and ended in divorce in 1978.

He married for the fourth time in 1980. His wife Leena Chandavarkar remained with him till his death. The couple had one son.

He died of a heart attack on 13 October 1987, his brother Ashok's birthday.

Trivia

This eccentric playback singer was a loner—he had trees for friends, but was not close to any human being.

Translate Wiki

to Spanish, French, Hindi, Portuguese

Article Title

- Kishore Kumar Biography

Author

- Editors, TheFamousPeople.com

Website

- TheFamousPeople.com

URL

-

https://www.thefamouspeople.com/profiles/kishore-kumar-5308.php

Last Updated

- October 15, 2017

---

---

---