Kathryn Joosten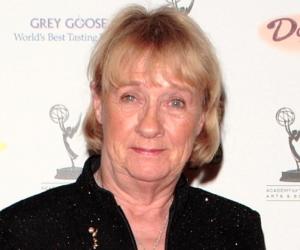 Quick Facts
Birthday: December 20, 1939
Nationality: American
Famous: Actresses American Women
Died At Age: 72
Sun Sign: Sagittarius
Also Known As: Kathryn Rausch
Born Country: United States
Born in: Chicago, Illinois, United States
Famous as: Actress
Height: 5'3" (160 cm), 5'3" Females
Family:
Spouse/Ex-: George Joosten (m. ?–1980)
children: Jonathan, Timothy
City: Chicago, Illinois
Cause of Death: Cancer
U.S. State: Illinois
More Facts
awards: 2012 · Desperate Housewives - Primetime Emmy Award for Outstanding Supporting Actress in a Comedy Series
2008; 2007 · Desperate Housewives - Screen Actors Guild Award for Outstanding Performance by an Ensemble in a Comedy Series
Continue Reading Below
Kathryn Joosten was an American actress, who best known for her portrayal of Karen McCluskey in the TV series 'Desperate Housewives'. She started her acting career in the world of theatre. Then, through sheer talent and determination she eventually etched out a memorable career. She performed memorable performances in several popular TV shows. Some of Kathryn Joosten's best-known TV roles have been in 'My Name is Earl', 'The Suite Life of Zack & Cody', 'Will & Grace', 'Gilmore Girls', and 'Grey's Anatomy'. She also starred in a few hit movies, such as 'Breaking Dawn', 'Cheaper by the Dozen 2', and 'Alvin and the Chipmunks: The Squeakquel'. Although she never made it big in movies, Joosten was a force of nature on TV. What made her stand apart was her ability to pull off comedic and dramatic characters with relative ease. With a career spanning thirty-nine years, she remained active until her death from lung cancer. Because of her own struggles with lung cancer, she was also a spokesperson for 'Pfizer's' "Lung Cancer Profiles" campaign.
Recommended Lists:
Recommended Lists:
Continue Reading Below
Childhood & Early Life
Kathryn Joosten was born Kathryn Rausch on December 20, 1939, in Chicago, Illinois, USA. She was of Dutch-German heritage.

After graduating, she started working as a psychiatric nurse for troubled teenagers. She also fell in love with and married a psychiatrist. But her husband's alcoholism led to their divorce.

Recommended Lists:

Recommended Lists:

Continue Reading Below

Career

After her divorce, Kathryn Joosten was a single mother and she supported her family by hanging wallpaper and paintings at mansions in Lake Forest. She also worked as a salesperson for the 'Welcome Wagon' company.

Simultaneously, she also started taking classes at the 'Steppenwolf Theater', Chicago. She then started performing at community theaters in 1982 at the age of 42. She eventually graduated to semi-professional theater.

In 1984, she had a small role in the movie 'Grandview, U.S.A.'. She followed that up with similar guest roles in TV series like 'Lady Blue' (1985), 'Sable' (1987), and the movie 'The Package' (1989). However, these were insubstantial roles and far too rare.

She received her first big break after auditioning at 'Disney World', Orlando, Florida, in 1992. She was hired as a street performer. Unfortunately, the gig ended after a year and she had to do odd-jobs to support her family.

In December 1995, Kathryn Joosten moved to Hollywood to pursue an acting career. She made her Hollywood debut in the TV series 'Family Matters' (1995).

In 1996, Joosten guest-starred in several popular TV shows including '3rd Rock from the Sun', 'ER', 'Roseanne', 'Murphy Brown', etc.

1997 was even busier for Kathryn Joosten. She appeared in top-rated shows like 'Seinfeld', 'Frasier', 'NYPD Blue', etc. Her ability to pull off dramatic characters and showcase her comedic timing made her a bankable TV star.

She also portrayed different characters on 'The Drew Carey Show' (1998–2003). Joosten landed her first recurring role of Claire in the sitcom 'Dharma and Gregg' (1998– 2001).

Kathryn landed her first major role as a series regular in 'The West Wing' (1999–2002). She portrayed the character of Dolores Landingham and was part of the series until her character's death in season 2.

In the next few years, she became a familiar face on TV. She was seen in episodes of 'Buffy the Vampire Slayer' (2000) and 'Ally McBeal' & 'The X-Files' in 2001. Her most noteworthy recurring roles were in 'General Hospital' (2002 – 2003), 'Joan of Arcadia' (2003 – 2005), and 'Monk' (2003 – 2008).

In 2004, she co-starred in the movie 'Breaking Dawn'. Kathryn Joosten followed that up with two more hit movies in 'Cheaper by the Dozen 2' (2005) and 'Wedding Crashers' (2005).

In 2005, she was cast in the lead recurring role of Karen McCluskey in the drama series 'Desperate Housewives'. She played the character until the series finale in 2012 when Karen dies of cancer. It reflected her real-life battle with cancer.

From 2006 until 2008, she was seen in shows like 'The Evidence', 'The Closer', and 'Las Vegas'etc. She also played Aunt Jackie in the blockbuster 'Alvin and the Chipmunks: The Squeakquel' (2009).

Failing health due to cancer restricted her appearances in TV shows at the end of her career. She was still seen in 'The Bold and the Beautiful' (2011), the movie 'Mega Python vs. Gatoroid' (2011), and 'The Mentalist' (2012).

Recommended Lists:

Recommended Lists:

Major Works

Kathryn Joosten is best known for playing Karen McCluskey in the ABC TV series 'Desperate Housewives' (2005–2012). She earned two 'Primetime Emmy Awards' in 2005 and 2008 in the 'Outstanding Guest Actress in a Comedy Series' for her performance. She was also nominated twice again in 2010 and 2012.

Family & Personal Life

Kathryn was married to George Joosten until their divorce in 1980. She has two children, sons Jonathan and Timothy Joosten.

In 2001, she was diagnosed with lung cancer and she quit smoking. In 2009 she was diagnosed with lung cancer for thE second time. In January 2010, after chemotherapy and surgery, Joosten was declared cancer-free. However, the cancer returned. Kathryn Joosten passed away on June 2, 2012, in Westlake Village, California, USA.

Translate Wiki

to Spanish, French, Hindi, Portuguese

Article Title

- Kathryn Joosten Biography

Author

- Editors, TheFamousPeople.com

Website

- TheFamousPeople.com

URL

-

https://www.thefamouspeople.com/profiles/kathryn-joosten-50804.php

Last Updated

- November 08, 2019

---

---

---