Kate McCann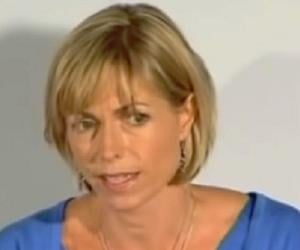 Quick Facts
Nationality: British
Famous: British Women Pisces Women
Age: 51 Years, 51 Year Old Females
Sun Sign: Pisces
Also Known As: Kate Marie Healy
Born in: Huyton, Liverpool
Famous as: Mother of Madeleine McCann
Family:
Spouse/Ex-: Gerry McCann (m. 1998)
father: Brian Healy
mother: Susan Healy
children: Amelie McCann, Sean McCann
More Facts
education: The University of Dundee
Continue Reading Below
Kate Marie McCann is a British physician who rose to fame when her three-year-old daughter Madeleine McCann went missing in Portugal. The Liverpool-born Kate's aspirations led her to medical school and soon to a successful career as a physician. She was living a happy life with her husband Gerry, also a doctor, and their three children until 2007. The family's tryst with misery began when they went for a vacation in Portugal in 2007. The couple's oldest daughter, Madeleine, went missing and was not found despite an intense, high-profile search and extensive public scrutiny. Kate was reduced to a tragic figure and was seen in many press conferences, pleading for help in search for her daughter. Despite many bureaucratic turns, celebrity support, and public appeals, the search for Madeline has proven to be futile so far, as she is still missing. Investigations by Scotland Yard and the Portuguese police are still underway, but no decisive conclusions have been drawn. Kate has written an autobiography, detailing the events post Madeleine McCann's disappearance, in the hope of finding her daughter someday. She currently lives in London and works as a medical worker. She is also the ambassador for the charity, Missing People.
Rise to Fame
Kate McCann and her husband Gerry McCann were just like any other couple in the world before an unfortunate event forcibly brought them into the spotlight. They had three beautiful children and enjoyed spending time together as a family. However, their world came crashing down when their firstborn daughter, Madeleine, disappeared on May 3, 2007. The couple was dining with their friends in Algarve, while their children were asleep in the family's holiday apartment in Praia da Luz, Portugal. When the couple returned to their apartment, they found that their daughter was missing from her bed. Madeline, affectionately known as Maddie, was just three years old at that time. Her parents, worried to death, launched a search with the help of the local police. They held a press conference 24 hours after Madeline's disappearance, urging the public to help them find their daughter. Apart from this, Kate also decided to meet Pope Benedict XVI in order to get support for her cause. However, after five months of investigation, the police stated that Madeleine could possibly be dead. Later, in September 2007, the police declared Kate and her husband as the official suspects in the case. The couple couldn't bear it any longer and decided to return to England.

Eventually, due to lack of evidence, the case was shelved in 2008, and Kate and her husband were no longer official suspects. After that, Kate continued to actively search for her daughter and pleaded for help from various celebrities. She also released an image illustrating what Maddie would have looked like after two years, in the hope of keeping the search alive. In 2011, a review into the case was done by Scotland Yard at Prime Minister Theresa May's request, and the report concluded that Maddie was alive. However, the Portuguese police refused to act on this due to lack of new evidence. Kate decided to do something about this situation and wrote the autobiography 'Madeleine: Our Daughter's Disappearance and the Continuing Search for Her' in 2011, along with her husband. The book provided insights into her life and her state of mental health, which had been deteriorating since the disappearance.

Subsequently, Scotland Yard opened a new investigation into the case in 2013 and identified 38 people of interest. This new move forced the Portuguese police to re-open the case. Despite joint efforts by the two countries, which involved several searches and detailed investigations, the search bore no fruit. Today, the investigation is still underway.

Kate currently works as a medical worker and has given up her practice as a general physician. She is also the ambassador for the charity organization, Missing People. She was recently in news after a Netflix documentary titled 'The Disappearance of Madeleine McCann' was released in March 2019. The eight-part-series unravels the mysterious disappearance of Madeleine. The absence of Kate and Gerry from the documentary drew a lot of flak; however, Kate issued a statement, saying that her involvement could have hindered the ongoing investigation. She further stated that she had not watched any of the episodes of the docu-series.

Continue Reading Below

Family & Personal Life

Kate Marie Healy was born on March 5, 1968 in Huyton, Liverpool to Susan and Brian Healy. She started her education at All Saints School, Anfield and later attended Notre Dame High School, Everton Valley. Kate decided to pursue medicine and graduated with a degree in the same from the University of Dundee in 1992. She began her practice in obstetrics and subsequently moved to gynecology before finally settling for general practice. She is currently married to Gerry McCann, a cardiologist. The duo met each other in 1993 in Glasgow and dated for a while before finally deciding to tie the knot in 1998. They had their first child, Madeleine, in 2003, before becoming parents of twin children, Sean and Amelie, in 2005. After the disappearance of their first daughter in 2007, Katie retreated into herself and nearly broke up with her husband. In an interview, she revealed that she stopped doing everything that she previously enjoyed because she was consumed by the fear that her daughter could have been abducted by a pedophile. However, despite hitting a rough patch, the couple decided to stick together, and emerged as a resilient unit in the face of several accusations and media scrutiny.

Translate Wiki

to Spanish, French, Hindi, Portuguese

Article Title

- Kate McCann Biography

Author

- Editors, TheFamousPeople.com

Website

- TheFamousPeople.com

URL

-

https://www.thefamouspeople.com/profiles/kate-mccann-44134.php

Last Updated

- March 28, 2019

---

---

---