Kat Von D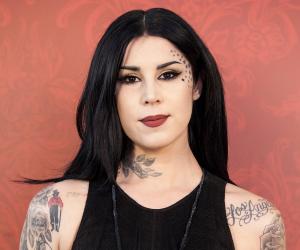 Quick Facts
Nationality: American
Famous: Quotes By Kat Von D Miscellaneous
Age: 36 Years, 36 Year Old Females
Sun Sign: Pisces
Also Known As: Katherine von Drachenberg
Born in: Montemorelos, Nuevo León, Mexico
Famous as: Tattoo Artist
Height: 1.76 m
Family:
Spouse/Ex-: Deadmau5, Jesse James, Oliver Peck
father: René Drachenberg
mother: Sylvia Galeano
siblings: Karoline von Drachenberg, Michael von Drachenberg
City: Montemorelos, Mexico
Founder/Co-Founder: High Voltage Tattoo
Net worth: $10 million
Continue Reading Below
Katherine Von Drachenberg, better known by her registered trademark name Kat Von D, is a renowned Mexican-American tattoo artist, who's recognized for crafting intricate and artistic designs, drawn from different cultures and influences she experienced during childhood. She is often heard crediting her grandmother for exposing her to art, be it learning the piano, listening to the classical compositions of Beethoven, or creating Latino-inspired tattoos. What she started off as a young teenager grew into a flourishing career, making her famous not just in the United States, but across various nations as well. After trying her luck at various tattoo shops, she found success and recognition at True Tattoo. And soon, she was one of the busiest tattoo artists in Los Angeles, even before she entered the notable Miami Ink. Besides, she opened her own Hollywood tattoo parlor, LA Ink, in Hollywood. Apart from tattooing, she has displayed her talent in modeling and acting by playing cameo roles in films and television programs. To add to her ever-increasing career graph, she has launched her own fashion brand and make-up line, and runs an art gallery and boutique. Her on-and-off romantic relationships with various reputed celebrities have got her enough limelight, largely in the form of controversies.
Recommended Lists:
Recommended Lists:
Continue Reading Below
Childhood & Early Life
Katherine Von Drachenberg was born on March 8, 1982 in Montemorelos, Nuevo Leon, Mexico, to Argentinean couple, Rene Drachenberg and Sylvia Galeano.

While her father is of German descent, her mother is from Italian-Spanish ancestry. She shares a close bond with her siblings – brother Michael von Drachenberg and sister Karoline von Drachenberg.

She migrated to Los Angeles, with her family when she was four, and settled in Colton, California.

She received classical training in piano when she was six years old, developing a liking for Ludwig van Beethoven's masterpieces.

Her grandmother's love for music and art, along with the Latin culture and punk rock scene prevailing in Los Angeles, helped her realize her artistic interests, which later reflected in her tattoo arts and styles.

She was influenced by punk rock bands to such an extent that she spent most of her time listening to Misfits and Ramones, at the tender age of 12.

At 14, she got an old-English 'J' letter inked on her ankle as her first tattoo. Her artistic craft soon came out when she picked up a tattoo machine and created a Misfits skull on her friend.

Continue Reading Below

Recommended Lists:

Recommended Lists:

Career

She dropped out of school at 16 to work as a tattoo artist and was employed at a local professional shop, Sin City Tattoo, in 1998.

Over the next few years, she spent time in various shops, such as Blue Bird Tattoo and Inflictions, gaining experience and polishing her talent.

She landed at True Tattoo, where she worked with Tim Hendricks, Clay Decker and Chris Garver, who recommended her to try her luck at 'Miami Ink'.

She was hired at 305 Ink, Miami, as a replacement to injured Darren Brass, in 2005. She worked for two seasons on 'Miami Ink', a reality television series on TLC network, but her differences with owner Ami James forced her to leave.

She returned to Los Angeles and opened her own shop, High Voltage Tattoo, in Hollywood, California, in 2007. This helped her telecast her own reality series 'LA Ink' on TLC, which features tattoo stories of various clients.

She released her first book 'High Voltage Tattoo' in January 2009, as a compilation of tattoos and artwork, with a foreword penned by Mötley Crüe's Nikki Sixx. The book was ranked #6 in the list of New York Times Best Sellers.

Her second book 'The Tattoo Chronicles' was out in October 2010 and was listed at #3 in The New York Times 'Hardcover Advice & Misc' best-sellers.

Continue Reading Below

'LA Ink' ran for four seasons before ending in 2011, citing cancelation of the contract by TLC, although she claimed that it was her decision to not continue the show further.

She is credited with the creation of MusInk Tattoo Convention and Music Festival in Southern California, in 2008.

In 2008, she created her own cosmetics line – Kat Von D for Sephora, soon after which she launched an art gallery and boutique – Wonderland Gallery, adjacent to High Voltage Tattoo, in 2010.

During the fall 2011 season, she started her own clothing line – KVD Los Angeles and Kat Von D Los Angeles in Canada and United States.

She has made guest appearances on various chat shows and television series, namely, 'Pimp My Ride' (2004), 'Bam's Unholy Union' (2007), 'MADtv' (2008), and 'I Love Jenni' (2013).

She has acted in a few movies, which include 'Bam Margera Presents: Where the Fuck Is Santa?' (2008) and 'The Bleeding' (2009).

She has got the emblems of a large number of music bands tattooed over her body, such as ZZ Top, Mike Got Spiked, Misfits, AC/DC, HIM, Slayer, Guns N' Roses, and Turbonegro.

Continue Reading Below

Her celebrity clientele includes Sebastian Bach, Eric Balfour, Ryan Dunn, Jenna Jameson, Nicole Richie, Travis Barker, Green Day, Mira Sorvino and Ville Valo among others.

Major Works

She rose to fame in 2005 with her appearance in two seasons of 'Miami Ink', a reality television series on TLC network, displaying her realistic tattoo portraits. However, her constant verbal clashes with the owner led to her termination.

Her 2007 reality television series 'LA Ink' became one of the highest-rated programs on TLC channel, handling distinguished celebrity clientele, including actor Stephen Baldwin, comedienne Margaret Cho and rocker Dave Navarro.

While working on 'LA Ink', she set a Guinness World Record for making the most tattoos in a given period of 24 hours, in 2007, totaling 400. However, the record was outnumbered by her then-husband, Oliver Peck, in 2008 with 415 tattoos.

Awards & Achievements

She was ranked at number 62 in the 2008 list of 'Hot 100 World's Most Beautiful Women' by Maxim magazine.

Continue Reading Below

Personal Life & Legacy

She got married to Oliver Peck, her fellow tattoo artist at True Tattoo, in 2003. However, their relationship ended in a divorce in 2007.

She started dating Nikki Sixx, a bassist in American rock band Mötley Crüe, in 2008, but broke off the relationship in January 2010.

She got engaged to West Coast Choppers CEO and reality TV personality, Jesse James, in January 2011. The two broke up and patched up in the next eight months before finally announcing their break-up in September 2011.

She began dating Canadian music producer Joel Zimmerman, popularly known as deejay Deadmau5, in September 2012 and announced their engagement in December. Later in June 2013, she broke off due to infidelity.

She is rumored to be dating comedian Tom Green since July 2013, when the two were spotted together.

Trivia

She is said to be the reason behind the divorce of Jesse James and Sandra Bullock, thus bringing an end to their five-year marriage because of infidelity.

The Eagles of the Death Metal band created the song 'High Voltage' after her shop's name, which was featured in their third album 'Heart On', released in 2008.

She is usually found at True Tattoo in Hollywood, California, or Elm Street Tattoo in Dallas, Texas, when not working at her LA Ink Studios.

Translate Wiki

to Spanish, French, Hindi, Portuguese

Article Title

- Kat Von D Biography

Author

- Editors, TheFamousPeople.com

Website

- TheFamousPeople.com

URL

-

https://www.thefamouspeople.com/profiles/kat-von-d-5554.php

Last Updated

- August 17, 2018

---

---

---