Jeana Smith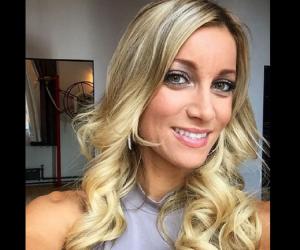 Quick Facts
Nationality: American
Age: 36 Years, 36 Year Old Females
Sun Sign: Pisces
Born in: Philadelphia, Pennsylvania
Famous as: Vlogger
Height: 1.6 m
Family:
father: Steven J.
mother: Harilyn Sue Neff
siblings: Jason Smith
U.S. State: Pennsylvania
More Facts
education: Rowan University, New Jersey, USA
Continue Reading Below
Jennifer Smith aka Jeana Smith is a very successful YouTube personality known for her out-of-this-world crazy prank videos with longtime boyfriend and partner, Jesse Wellens. Their primary YouTube channel 'BFvsGF' has achieved a cult following with huge viewership. She has more than 1 million subscribers to her channel. The viewers love their videos for their creativity, funny content and a subdued respect for each other. The channel has also served as a vlogging platform for Jeana, bringing her viewers closer to her life. Jeana, along with partner Jesse, runs another super successful channel, 'PrankvsPrank,' which specializes in public pranks created by the duo. This channel has more than 10 million subscribers. They also host a Prank Academy through this channel where they share their prank expertise with viewers. Jeana also curates and uploads regular videos of her two pet cats in her third channel NylahKitty. She went through an emotionally difficult breakup with partner and live-in boyfriend, Jesse, in 2016, but the two remain amicable to each other and continue to collaborate.
Recommended Lists:
Recommended Lists:
Continue Reading Below
The Meteoric Rise to Stardom
Jeana started her YouTube Channel 'BFvs GV' in October, 2009, with longtime partner and fellow prankster, Jesse Wellens. The two thought up on various crazy pranks to play on each other and would ambush each other in multiple embarrassing situations. Sometimes, He will scare her with a huge beatle and sometime she will trick him into thinking that she is cheating on him! The more the years went by, the crazier Jeana's prank became! And up went the number of subscribers! 'BFvsGF' has close to 1 million subscribers and counting!

Recommended Lists:

Recommended Lists:

Apart from 'BFvsGF' channel, she has created two other channels so far, both with ex-boyfriend, Jesse. The first is called 'PrankvsPrank, where Jeana and Jesse run a Prank Academy, a pay-for-view series of instructional videos where they teach YouTubers how to execute various cool pranks successfully. The channel also features personal vlogs as well as public prank videos. Recently, after their split, the channel is being used by Jesse primarily for his vlogging while Jeana has taken up the 'BFvsGF' channel for her personal vlogging. PrankvsPrank also has a staggering number of subscribers, - over 10 million! The number of views on the channel is close to 2 billion as well.

Jeana's third YouTube channel is 'NylahKitty'. The channel features funny cat videos of her two pet cats, Nylay and Kitty. The channel is comparatively new and was started in 2011. In the videos Jeana is seen as a proud mom to two adorable and spunky kittens who loves to prance around the apartment. The channel has over 700,000 subscribers and more than 37 million views.

Continue Reading Below

Behind The Curtains

Jeana was born Jennifer Smith on March 15, 1983 at Philadelphia, Pennsylvania, USA to Steve and Harilyn Sue. She has a brother named Jason. She has a degree from Rowan University, New Jersey, and she finished the course at the top of her class.

Recommended Lists:

Recommended Lists:

She lost her mother in 1996 due to ovarian cancer. The incident made a deep impact on 16 year old Jeana's mind and since then she has been showing her solidarity against the deadly disease by participating in the National Ovarian Cancer Walk. Jeana's father also briefly suffered from prostate cancer, but made a full recovery.

Jeana Met Jesse sometime around 2005. The couple did not hit it off instantly and Jeana did not acknowledge Jesse's approach. She pretended she lost his number. But they met for a second time, seemed to get on together pretty well, and started dating. During the initial period Jeana was based in Philly and Jesse in New Jersey.

Jesse was in the Airforce and in 2006 had to go on a tour to Korea. Jeana continued the long distance relationship and even visited him in Korea. Upon his return from Korea, the two moved in together in a house in Philly. They were together for 10 years with their fans speculating about their wedding.

The couple, however, split up in August, 2016. They addressed their fans together in an emotional video saying that they are going to take a break from YouTube as well as from each other. They blamed the life of being in the public eye too much for adding to the stress in the relationship. The pressure of uploading content everyday really left their personal lives in shambles.

The couple resumed uploading videos a month later. While Jesse is currently living in New York and is busy making short films, Jeana has bounced back from the break up and uploads regular vlogs and cat videos in her three channels. She and Jesse have remained good friends and continue to collaborate in their channel.

Last Updated : March 07, 2018

Translate Wiki

to Spanish, French, Hindi, Portuguese

---

---

---

Jeana Smith Fans Also Viewed