H. R. McMaster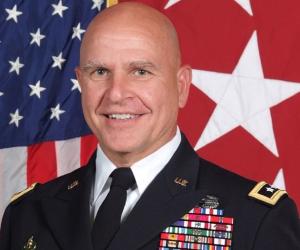 Quick Facts
Nationality: American
Famous: Miscellaneous American Men
Age: 57 Years, 57 Year Old Males
Sun Sign: Leo
Also Known As: Herbert Raymond McMaster
Born Country: United States
Born in: Philadelphia, Pennsylvania, United States
Famous as: Former US National Security Advisor
Family:
Spouse/Ex-: Kathleen Trotter (m. 1985)
father: H.R. McMaster Sr.
mother: Marie C. McMaster
children: Caragh McMaster, Colleen McMaster, Katharine McMaster
U.S. State: Pennsylvania
City: Philadelphia
More Facts
education: United States Army Command and General Staff College, United States Military Academy, University of North Carolina at Chapel Hill, Valley Forge Military Academy
Continue Reading Below
Herbert Raymond McMaster is a retired lieutenant general of the United States Army who served as the 26th National Security Advisor under President Donald Trump. A graduate from the United States Military Academy and Ph.D. holder in American history from the University of North Carolina at Chapel Hill, Herbert had an elaborate military career of over three decades. During the course of his military service, Herbert remained part of the Gulf War, the Battle of 73 Easting, Iraq War, the Global War on Terrorism, and the War in Afghanistan. He served as a research fellow at the Hoover Institution; military history professor at the United States Military Academy; Consulting Senior Fellow at the International Institute for Strategic Studies; member of the Council on Foreign Relations; top counterinsurgency advisor to General David Petraeus; Director of the Army Capabilities Integration Center; Deputy to the Commander for Planning of the International Security Assistance Force in Afghanistan; and Army Training and Doctrine Command's Deputy Commanding General. While serving as a lieutenant general in the army, Herbert was inducted as United States National Security Advisor. He served the post for over a year before taking up an academic position at the Stanford University.
Recommended Lists:
Recommended Lists:
Continue Reading Below
Childhood & Early Life
Herbert Raymond McMaster was born on July 24, 1962, in Philadelphia, Pennsylvania, US to Herbert McMaster and Marie C. "Mimi" McMaster (née Curcio). His father served as an infantryman in the United States Army and fought for the army during the Korean War. His mother was a school teacher and administrator. His younger sister's name is Letitia.

He attended grammar school at Norwood Fontbonne Academy and graduated from there in 1976. He then completed his high school graduation from Valley Forge Military Academy in 1980. In 1984, he graduated from the United States Military Academy at West Point and obtained a commission as second lieutenant.

He attended the University of North Carolina at Chapel Hill and obtained a Master of Arts degree and Ph.D. in American history. The thesis he submitted, which criticised strategy of America and military leadership during the Vietnam War, later became the basis of his September 2, 1997 published book 'Dereliction of Duty'. The book has become quite popular in the United States military, being read widely.

Recommended Lists:

Recommended Lists:

Military Service

Herbert was initially delegated to the 2nd Armored Division at Fort Hood where he served with 1st Battalion 66th Armor Regiment. He was delegated to the 2nd Armored Cavalry Regiment at Warner Barracks in Bamberg, Germany, in 1989 and served there till 1992. While there, Herbert was deployed to the Operation Desert Storm. He served as captain of Eagle Troop of the regiment and thrived with his troop in destroying 28 Iraqi Republican Guard tanks in the February 26–27, 1991 Battle of 73 Easting during the Gulf War. Herbert later received the Silver Star.

From 1994 to 1996, he served at the United States Military Academy as a military history professor. In 1999, he completed his graduation from United States Army Command and General Staff College. From 1999 to 2002, he commanded 1st Squadron, 4th Cavalry Regiment following which he served the U.S. Central Command (CENTCOM) in several staff positions.

He became lieutenant colonel and then colonel and served as Deputy Commander Lieutenant General John Abizaid's executive officer on the staff of CENTCOM. He later served as Director, Commander's Advisory Group (CAG), after John Abizaid became head of CENTCOM.

He became a research fellow at the Hoover Institution and completed an Army War College research fellowship in 2003. He was delegated to command the 3rd Armored Cavalry Regiment in 2004 following which he led the regiment in fighting the Iraqi insurgency in Tal Afar. The mission of securing the city and defeating the city's insurgent strongholds was accomplished in September 2005 with Operation Restoring Rights.

In 2006, he became a Senior Research Associate at the International Institute for Strategic Studies (IISS).

He became Director, Concept Development and Experimentation (later known as Concept Development and Learning), in the Army Capabilities Integration Center in August 2008. It is a U.S. Army center situated on Fort Eustis, VA, within the Training and Doctrine Command (TRADOC) of the army. He was elevated on June 29, 2009 and chosen as the J-5, Deputy to the Commander for Planning, at the International Security Assistance Forces Headquarters in Kabul, Afghanistan in July 2010.

On January 23, 2012, he was nominated for major general and chosen as commander of the Maneuver Center of Excellence of the army at Fort Benning. He was nominated for lieutenant general by Defense Secretary Chuck Hagel in February 2014 and after attaching his third star in July that year, Herbert started serving as Deputy Commanding General of the U.S. Army Training and Doctrine Command as well as Director of Army Capabilities Integration Center of TRADOC. Meanwhile in April that year, he found place in Time's list of 100 most influential people in the world. He retired from the army on May 18, 2018 and his retirement ceremony was held same day at Joint Base Myer–Henderson Hall, being presided by the Army Chief of Staff General Mark A. Milley.

Continue Reading Below

He received several decorations and honours for his service including Army Distinguished Service Medal (3), Defense Meritorious Service Medal (2), Defense Superior Service Medal, Army Commendation Medal (4), Army Meritorious Service Medal (5) and Army Achievement Medal (4).

As National Security Advisor

While serving the army, Herbert was nominated for National Security Advisor by US President Donald Trump on February 20, 2017. This came after Michael T. Flynn resigned the post on 13th of that month.

As Herbert wanted to continue his active duty with the army, a United States Senate vote was required for him to assume his duties and responsibilities as National Security Advisor. Accordingly the Senate Armed Services Committee voted 23–2 on March 6, 2017 recommending the full Senate for confirmation of his reappointment as lieutenant general while serving as National Security Advisor. The Senate was referred the committee recommendation on the next day and on March 15, 2017, he was confirmed by the full Senate by a vote of 86–10.

He fired many staff members of National Security Council following which, in August 2017, he became target of what some considered as a "smear campaign". The journalists and White House officials doubted that these attacks were led by Steve Bannon. Other who promoted the campaign against Herbert included Breitbart News, radio host Alex Jones and attorney Mike Cernovich. Herbert was also criticised by the Center for Security Policy for not backing Trump's agenda and for being less conservative.

He disagreed with Trump on the main foreign policy strategies which were inclusive of the approach of administration towards Iran, Russia and North Korea. He was eventually removed from the position of National Security Advisor on March 22, 2018.

Other Endeavours

HarperCollins declared in July 2018 that Herbert signed a book deal with them for his memoir titled 'Battlegrounds' that will be released in 2020. In September that year he started working at Stanford University's Freeman Spogli Institute for International Studies as a Bernard and Susan Liautaud Visiting Fellow. He also serves the Stanford Graduate School of Business as a management lecturer.

He became associated with the US based non-profit company Spirit of America as an Advisory Board Member in 2019.

Family & Personal Life

He married Kathleen Trotter in 1985 and has three children.

Translate Wiki

to Spanish, French, Hindi, Portuguese

Article Title

- H. R. McMaster Biography

Author

- Editors, TheFamousPeople.com

Website

- TheFamousPeople.com

URL

-

https://www.thefamouspeople.com/profiles/h-r-mcmaster-50236.php

Last Updated

- October 31, 2019

---

---

---