Geli Raubal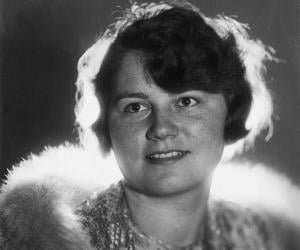 Quick Facts
Nationality: Austrian, Hungarian
Famous: Family Members Austrian Women
Died At Age: 23
Sun Sign: Gemini
Also Known As: Angela Maria Raubal
Born Country: Austria
Born in: Linz
Famous as: Hitler's Niece
Family:
father: Leo Raubal
mother: Angela Hitler
siblings: Elfriede Maria Hochegger, Leo Rudolf Raubal Jr.
Died on: September 18, 1931
place of death: Munich
Cause of Death: Suicide
More Facts
education: Ludwig Maximilian University of Munich
Continue Reading Below
Born as Angel Maria Raubal, Geli Raubal is best known as the half-niece of the Nazi dictator Adolf Hitler. She was the closest family member of the German autocrat who was highly possessive of her, and some even presume that he had a 'romantic obsession' towards the young girl. She was never part of the limelight and lived a life of constraints and inhibitions under Hitler's tyranny. The tall, beautiful and brown-eyed woman, who is considered to be the only woman Hitler ever truly loved, was treated as an in-house prisoner. Her death is believed to have sowed the first seeds of cold-heartedness in Hitler. Stirring up controversy, Raubal's mysterious death raised questions about the relationship she had with her uncle. The reasons for her apparent suicide remain unknown.
Recommended Lists:
Recommended Lists:
Continue Reading Below
Childhood & Early Life
Geli Raubal was born on 4 June 1908 in Linz, Austria to Leo Raubal and Angela Raubal. Angela was the half-sister of the Nazi leader Adolf Hitler. After losing her father at the age of two, Raubal and her siblings; Leo Rudolf Raubal Jr and Elfriede, were solely raised by their mother in Austria before they moved to Germany to live with their uncle.

Continue Reading Below

Later Life

The ambitious and intelligent Geli Raubal was 17 years of age when she moved to her half-uncle Adolf Hitler's home with her mother and sister. After the untimely death of her father, Uncle Alf (as Raubal addressed him) appointed Raubal's mother as a live-in housekeeper in 1925, which led to the uncle-niece duo coming in close contact in the following years. Four years later in 1929, Geli's mother Angela Raubal was sent to be the caretaker of Hitler's mountain retreat Berghof villa near Berchtesgaden while Raubal moved into Hitler's Munich apartment to complete her studies. Due to the constant nitpicking of her uncle, her efforts to complete her medical studies at the Ludwig Maximilan University went in vain.

In her later years, Raubal was always seen hand in hand with her uncle - as a companion to theatres, operas and also conferences and meetings. In spite of the 17-year age difference, Hitler and Raubal's once innocent relationship turned into an infatuation and possession on Hitler's part. He began curbing the enchanting girl's freedom at a gullible and vulnerable age. Hitler's overbearing dominance continued to scar Raubal throughout her life as she was treated as an in-house prisoner answerable for every decision she made. Around 1929, when Hitler discovered about Raubal's intimate relationship with her chauffeur, the man was immediately fired and it only made her situation worse with more cut-offs and restrictions.

With Hitler's growing fascination, Raubal's life became an endless state of claustrophobia as she was forced to break associations with friends and family; and only rely on her relationship with the dictator. It was these extreme restrictions that resulted in her suicide on 18 September 1931 at the mere age of 23. Raubal was in love in a man named Linz and she wanted to marry him. Unable to convince Hitler about her relationship and the plan to move to Vienna to pursue singing, Raubal shot herself with Hitler's pistol and met a sad end at his apartment in Munich.

Controversy

Despite early reports suggesting suicide, Geli Raubal's death caused a huge scandal during the Nazi era due to Hitler's close relationship with the young woman. From theories about of a toxic and kinky sexual relationship between the two to evidences proposing that Raubal was murdered; her death continues to remain a big mystery.

Translate Wiki

to Spanish, French, Hindi, Portuguese

Article Title

- Geli Raubal Biography

Author

- Editors, TheFamousPeople.com

Website

- TheFamousPeople.com

URL

-

https://www.thefamouspeople.com/profiles/geli-raubal-10864.php

Last Updated

- January 30, 2019

---

---

---