Fred Rogers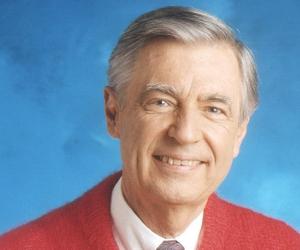 Quick Facts
Nationality: American
Famous: Quotes By Fred Rogers TV Anchors
Died At Age: 74
Sun Sign: Pisces
Also Known As: Fred McFeely Rogers
Born in: Latrobe, Pennsylvania, United States
Famous as: Television Personality
Family:
Spouse/Ex-: Sara Byrd (m. 1952–2003)
father: James
mother: Nancy Rogers
siblings: Elaine
Died on: February 27, 2003
place of death: Pittsburgh, Pennsylvania
U.S. State: Pennsylvania
More Facts
education: Dartmouth College (attended) Rollins College (B.A.) Pittsburgh Theological Seminary (M.Div.)
awards: 2002 - PNC Commonwealth Award in Mass Communications
2002 - Presidential Medal of Freedom
1987 - Peabody Award
Continue Reading Below
Fred McFeely Rogers was one of the most well-known television personalities in the history of American Television. He created, hosted, and composed for the preschool educational TV series 'Mister Roger's Neighborhood'. His gentle and kindhearted personality made him a role model among the young audience of the America. Roger's show ran uninterrupted for four decades and became one of the longest running television shows in the world. Rogers was born in a family which had interest in arts and he learned music at a very young age. He later hosted and composed music for many TV shows targeted at children. After working for a brief time on commercial TV, he moved to community television channels as he felt that commercial TV channels could not work for the good of the society. Rogers was awarded a Life Time Achievement Emmy and the highest civilian honor in USA. Several buildings and artworks in Pennsylvania are dedicated to the memory of Fred Rogers and he was ranked 35 in TV Guide's Greates TV stars of all time.
Recommended Lists:
Recommended Lists:
Continue Reading Below
Childhood & Early Life
Fred Rogers was born on March 20, 1928 in Latrobe, Pennsylvania, USA. He was the only child of his parents till he was eleven years old. His parents later adopted a baby girl named Elaine.

Rogers developed interest for music at a young age from his maternal grandfather, Fred McFeely. His maternal grandfather was interested in music and coached Rogers in music and Piano.

Rogers also got encouragement to learn music from his mother. He used to sing while his mother played Piano. Rogers started to play Piano when he was five years old.

He completed his schooling in Latrobe High School in the year 1946. He got admission in the prestigious Dartmouth College and then got transferred to Rollins College located in Winter Park, Florida. He got a BA in Music Composition in the year 1951.

He met his future wife, Sara Joanne Byrd at Rollins College. They married in the year 1952 and had two children James Rogers and John Rogers.

During the senior year of his college, while visiting his parents he saw television set for first time in his life. He was immediately attracted to it and wanted to be a part of television revolution that was sweeping across the USA at that time.

Continue Reading Below

Recommended Lists:

Recommended Lists:

Career

Due to his fascination for television, he applied for a job at the leading national television channel NBC in the year 1951 and worked in some musical programs of the channel like Your Hit Parade and The Voice of Firestone.

He quit NBC as he thought the reliance of commercial television on advertisements for their survival limited their ability to educate and enrich the youngsters.

In the year 1954, he started working for the first community TV station, WQED. He was a puppeteer in a children's show called 'The Children's Corner'. He worked as a cohost in an unscripted Live TV for seven years. In this time, he developed many puppets, music tracks, and characters like 'King Friday XIII' and 'Curious X the Owl'. These music tracks and characters were used in his later work.

During his time at WQED, Rogers earned a degree in theology from the Pittsburgh Theological Seminary. After his ordination, he continued his work with children's television.

In the early 1960s, Rogers moved to Toronto and was contracted by the Canadian Broadcasting Corporation (CBC) to work for the children's program 'Misterogers'. Despite getting popular with children, the show was discontinued after just three seasons.

He later developed a TV program called 'Mr. Dressup' along with his friend Ernie Coombs. The program was a big hit and became one of the longest running children's shows in Canada.

When Rogers returned to the USA, he brought rights for his show 'Mr. Dressup' which was later continued in WQED.

Continue Reading Below

In the year 1968, Rogers started telecasting the biggest hit of his career, 'Mister Roger's Neighborhood'. The show became one of the major shows in the history of American television. At its peak in the year 1985, nearly 8 percent of total American households tuned in to watch the show.

The show continued till the year 2001 when the final episodes were aired. Mister Roger's Neighborhood was an educative show which demonstrated how different objects like bulldozers and train engines worked.

Despite the success of 'Mister Roger's Neighborhood', Rogers created other television shows as well. In the year 1994, Rogers created a one-time special show named 'Fred Rogers' Heroes' for the PBS channel. It consisted of documentary portraits of four real-life people who worked for the betterment of their communities.

Rogers' career was not limited to television. Due to his love for children, he served as the chairman for the White House forum on child development and mass media in the year 1968.

Recommended Lists:

Recommended Lists:

Major Works

'Mister Rogers Neighborhood' was the single biggest achievement in the life of Fred Rogers. The show is still considered as one of the achievements of American television. Rogers was active till the end of the show. The show ran for more than three decades and was one of the longest run television shows in the world.

Awards & Achievements

'Mister Rogers Neighborhood' four Emmy Awards during the time it was telecast. Rogers was awarded the Lifetime Achievement Award in the 1997 Daytime Emmys.

Continue Reading Below

In the year 1999, Rogers was inducted into the Television Hall of Fame.

Rogers was awarded the Presidential Medal of Freedom, the highest civilian honor in USA in the year 2002 by George W. Bush. The award was given in recognition to his contribution to the welfare of children.

Rogers got a total of forty honorary degrees in his life-time and even got a Peabody award.

Personal Life & Legacy

Rogers remained married to his wife Sara till his death.

After the final episode of Mister Rogers' Neighborhood was aired in the year 2001, Rogers was diagnosed with Stomach Cancer in 2002. A mastectomy done in the year 2002 could not slowdown the disease. He died in the year 2003 at his home with his wife by his bedside.

Many critics consider Rogers to be the greatest television personality in the history of American TV.

Trivia

Due to his interest in aviation, Rogers also got trained as a general aviation pilot.

Translate Wiki

to Spanish, French, Hindi, Portuguese

Article Title

- Fred Rogers Biography

Author

- Editors, TheFamousPeople.com

Website

- TheFamousPeople.com

URL

-

https://www.thefamouspeople.com/profiles/fred-mcfeely-rogers-1428.php

Last Updated

- March 16, 2017

---

---

---