Erik Karlsson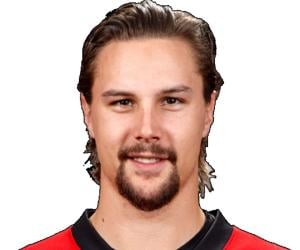 Quick Facts
Nationality: Swedish
Famous: Ice Hockey Players Swedish Men
Age: 28 Years, 28 Year Old Males
Sun Sign: Gemini
Also Known As: Erik Sven Gunnar Karlsson
Born in: Landsbro
Famous as: Ice Hockey Player
Height: 1.81 m
Family:
Spouse/Ex-: Melinda Currey (m. 2017), Therese Karlsson (m. 2012 – div. 2013)
father: Jonas Karlsson
mother: Ulla-Karin Karlsson
siblings: Pelle Karlsson
Continue Reading Below
Erik Sven Gunnar Karlsson is a Swedish professional ice hockey player presently affiliated with San Jose Sharks of the National Hockey League (NHL). He is widely regarded as one of the best defencemen in the world today and has won the James Norris Memorial Trophy as the NHL's best defenceman twice, in 2012 and 2015. A native of the Landsbro locality in Jönköping County, Karlsson played his first match in Elitserien in 2008 for Frölunda HC and went on to play a crucial part in Frölunda's Anton Cup win that year. During the 2008 NHL Entry Draft, he was selected as the 15th pick in the first round by Ottawa Senators. Karlsson played nine seasons for the Senators and was designated as the ninth captain in the team's modern history in the months leading up to NHL's 2014-15 season. In September 2018, he was traded to the San Jose Sharks. Karlsson has found significant success as a member of the Swedish national team. He played a pivotal role in the Swedes' silver-medal-winning campaign at the 2014 Olympics in Sochi.
Recommended Lists:
Recommended Lists:
Continue Reading Below
Childhood & Early Life
Erik Karlsson was born on May 31, 1990, in Landsbro, Sweden, to Jonas and Ulla-Karin Karlsson. He has a younger brother named Pelle (born February 12, 1992), who is also an ice hockey player.

Karlsson has harboured aspirations of becoming a professional ice hockey player since he was a child. He was inspired by the careers of Nicklas Lidström, Daniel Alfredsson, Mats Sundin, and Peter Forsberg.

Recommended Lists:

Recommended Lists:

Career

In the 2006-07 season, Erik Karlsson joined the J20 SuperElit team Södertälje SK. He played ten games in that season, scoring two goals. In the following season, he was acquired by the Gothenburg team, Frölunda HC. In the J20 SuperElit, he appeared in 38 games and scored 13 goals.

He made his Elitserien debut against HV71 on March 1, 2008. In overtime during a man advantage, Karlsson registered the winning goal for his team.

Frölunda subsequently made it to the J20 SuperElit playoffs where they defeated Brynäs IF, two games to one, in the Swedish Junior Ice Hockey Championship final to win the Anton Cup.

Prior to the 2008 NHL Entry Draft, NHL's Central Scouting Service listed Karlsson at number four among European skaters. During the draft, Ottawa Senators selected him as their 15th overall pick in the first round.

In September 2009, he took part in the Senators' training camp as it would give him the opportunity to join the team even at a junior age. Later that month, the Senators told the reporters that Karlsson had secured a place for himself in the team for the 2009-10 season.

Karlsson couldn't adapt to his new team quickly enough and was sent to the Senators' American Hockey League (AHL) affiliate, the Binghamton Senators. However, he was called back a month later, in November 2009.

Karlsson registered his first NHL goal against the Minnesota Wild in a 4–1 win for Ottawa on 19 December 2009. He continued to play for the Senators for the remainder of the NHL season and was part of their Stanley Cup Playoffs roster. His performance during the season earned him a spot in the 2011 NHL All-Star Game.

Continue Reading Below

The Senators offered Karlsson a seven-year, $45.5 million contract in June 2012, which he accepted. The same month, he was declared the winner of the James Norris Trophy as the NHL's best defenceman. He is the only second Swede, after seven-time winner Nicklas Lidström, to receive the accolade.

During the 2012-13 season, a labour dispute took place between NHL and National Hockey League Player's Association, resulting in a lockout. Karlsson spent the time playing for the Jokerit of the Finnish SM-liiga. His tenure there was moderately good.

While he was suspended for a game for allegedly throwing his stick at a referee, he scored nine goals and 25 assists (34 points) in 30 games for the Jokerit. After the lockout ended, Karlsson returned to play for the Senators.

In the 2015-16 season, Karlsson became the first defenceman since Paul Coffey in the 1985–86 season to conclude a season as one of the five scorers in the league. In the following season, he was forced to sit out his first game in almost four years in March 2017 due to an injury. He played a pivotal role in the Senators' Eastern Conference Final appearance.

Karlsson encountered multiple issues both in his professional and personal lives in 2018. He was not as productive as he used to be in the previous seasons. His team had its share of issues as well and ended the season in the 30th position in the league.

Karlsson's contract with the Senators was coming to an end and he had expressed his desire of staying in Ottawa. Despite this, he was traded to the San Jose Sharks on September 13, 2018.

On 18 September 2018, he registered his first goal for the Sharks, against St. Louis Blues. Five days later, he was handed a two-game suspension for an illegal check to the head of Los Angeles Kings player, Austin Wagner. Despite a slow beginning of the season, Karlsson's performance made him only the fifth defenceman to score at least one point in at least 14 consecutive games.

Continue Reading Below

In the international level, he has been part of the Swedish silver-medal winning team at the 2014 Winter Olympics and bronze-medal winning team at the 2010 World Championships.

Family & Personal Life

Erik Karlsson has been married twice. His first wife's name is Therese, whom he divorced in 2013. He exchanged wedding vows with his second and current wife, Melinda Currey, in Ottawa in August 2017.

On November 22, 2017, Melinda made the news of her pregnancy public via Twitter. She shared the news through Instagram as well. On 18 December, she announced that they were having a boy. On March 20, 2018, they revealed that their son, whom they had named Axel, was stillborn.

On May 4, 2018, Melinda filed an application for peace bond in an Ottawa court. In it, she accused Monika Caryk, the long-time girlfriend and fiancée of Karlsson's teammate, Mike Hoffman, of harassment, both prior to and after the death of her son.

According to Melinda, Caryk made hundreds of derogatory online comments against her and Karlsson using fake accounts. She alleged that Caryk wished her and her unborn son to die and that someone would "take out" her husband's legs so his professional career would be finished.

Caryk repeatedly denied the allegations and the peace bond was never served to her. However, according to Caryk, she has been "vilified" and "publicly excoriated" since then. No evidence had been produced before the court that proved that it was indeed Caryk who had subjected Melinda to cyberbullying.

Eventually, both Karlsson and Hoffman left Ottawa to play for the San Jose Sharks and Florida Panthers, respectively. In September 2018, the court ruled that it would not force Melinda to turn over the evidence that had led her to believe that her tormentor was Caryk.

Translate Wiki

to Spanish, French, Hindi, Portuguese

Article Title

- Erik Karlsson Biography

Author

- Editors, TheFamousPeople.com

Website

- TheFamousPeople.com

URL

-

https://www.thefamouspeople.com/profiles/erik-karlsson-14928.php

Last Updated

- February 14, 2019

---

---

---