Denis Villeneuve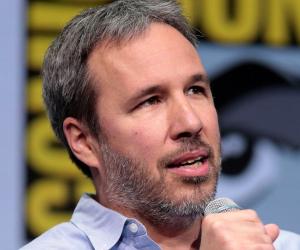 Quick Facts
Nationality: Canadian
Famous: Directors Screenplay Writers
Age: 51 Years, 51 Year Old Males
Sun Sign: Libra
Also Known As: Denis
Born in: Trois-Rivières, Quebec, Canada
Famous as: Film Director, Screenwriter, Playwright
Family:
Spouse/Ex-: Macha Grenon
siblings: Martin Villeneuve
More Facts
education: Université du Québec à Montréal
Continue Reading Below
Denis Villeneuve is an accomplished award winning Canadian film director, who, over a span of almost three decades, has delivered several critically acclaimed and commercially successful films. A multiple-time Canadian Screen Award (formerly Genie Award) winner for Best Direction, Villeneuve has also received several awards including the Jutra Awards as also nominations from the prestigious Academy Awards. Although he started studying science to build up a career in the field, his passion for filmmaking encouraged him to pursue film studies at the Université du Quebec à Montréal. He won La Course Europe-Asie, a youth film competition by Radio-Canada. He commenced filmmaking with short films and had his breakthrough with the Canadian film 'Maelström' that not only won eight Jutra Awards but also brought him to limelight garnering widespread recognition. Moving on, he delivered several remarkable films like 'Polytechnique', 'Incendies', 'Enemy', 'Prisoners', 'Sicario' and 'Arrival'. He has thrived in proving his versatility by directing films of different genres including science fiction and crime thrillers. His forthcoming film 'Blade Runner 2049', a neo-noir science fiction, is slated for a 2017 release. He will also direct film adaptations of two novels namely 'The Son' and 'Dune' respectively.
Recommended Lists:
Recommended Lists:
Continue Reading Below
Childhood & Early Life
Denis Villeneuve was born on October 3, 1967, in Trois-Rivières, Quebec, Canada to Nicole Demers and Jean Villeneuve. He has a younger brother Martin Villeneuve who went on to become a TED speaker, screenwriter, director, actor, producer and art director.

Not much is known about the early and academic life of this ace director except the fact that he abandoned studying science, his initial choice, to pursue film study at the Université du Québec à Montréal following his love for filmmaking.

Recommended Lists:

Recommended Lists:

Career

He directed the documentary film 'La Course Destination Monde' in 1988.

In 1990-91, he emerged as winner of the youth film competition 'La Course Europe-Asie' by 'Radio Canada' that qualified him for funds from the 'National Film Board'.

His initial works saw him directing short films that included 'REW-FFWD' (1994) in which he also contributed as screenwriter.

The Canadian drama film 'Cosmos', an anthology of six short films, was released on November 15, 1996. A total of six filmmakers worked on the film writing and directing one segment each with Villeneuve contributing in the segment titled 'Le Technetium'.

He then worked as writer-director of yet another Canadian drama flick 'August 32nd on Earth' that released on September 17, 1998. The film starring Pascale Bussières and Alexis Martin saw the latter winning 'Prix Jutra' award for Best Actor. The film was screened at the 1998 Cannes Film Festival in its 'Un Certain Regard' section.

Although a few films old, Villeneuve landed up with his real breakthrough as writer-director of the Canadian film 'Maelström' (2000) starring Marie-Josee Croze. The film was screened at different festivals around the globe and won eight Jutra Awards; 5 Genie Awards; and a 'Best Canadian Film' award from the 'Toronto International Film Festival' among a total of 23 awards.

After around a decade he went on to contribute as director and co-writer (with Jacques Davidts) of yet another commercially hit feature film 'Polytechnique', released on February 6, 2009.

Continue Reading Below

'Polytechnique' was a controversial yet critically acclaimed film based on the École Polytechnique massacre, which occurred on December 6, 1989. The film was also screened in the 2009 'Cannes Film Festival' and went on to garner nine Genie Awards among several others.

During a break while filming 'Polytechnique' he directed the short film 'Next Door' that premiered as part of the Semaine de la critique program at the 2008 'Cannes Film Festival' and received the Canal+ prize for the best short film. The short film, mostly wordless, was released on May 15, 2008.

'Next Door' won the Prix Jutra for Best Short Film; the Genie Award for Best Live Action Short Drama; and garnered a special citation for the Toronto International Film Festival Award for Best Canadian Short Film.

He remained director and co-writer of the critically acclaimed and commercially successful Canadian mystery drama film 'Incendies' that premiered at the Toronto International Film Festival and at the Venice Film Festival in September 2010 and released in Canada on September 17 that year.

'Incendies' earned several awards including eight Genie Awards among which the awards for Best Direction and Best Adapted Screenplay were bagged by Villeneuve. He also won the Jutra Awards for Best Direction and Best Screenplay. The film was selected to represent Canada in the Best Foreign Language Film category at the 83rd Academy Award.

The success of 'Incendies' that was named among '10 Best Films of 2011' by 'The New York Times' not only upped his burgeoning career in filmmaking but also garnered him several recognitions.

In 2011, he was chosen among the top ten filmmakers to watch by the 'Variety' magazine, and was presented with National Arts Centre Award at the Governor General's Performing Arts Awards.

Continue Reading Below

Moving ahead, he came up with yet another blockbuster and critically acclaimed thriller 'Prisoners' starring Hugh Jackman and Jake Gyllenhaal.

'Prisoners' marked the first English language feature film by the ace director and earned several awards and nominations including a nomination for Best Cinematography at the 86th Academy Awards.

He continued his success story as a filmmaker with the 2013 psychological thriller flick 'Enemy' that not only became a smashing hit but also garnered positive reviews by critics. It premiered on September 8, 2013 at the Toronto International Film Festival in its Special Presentation section.

'Enemy' earned him Best Director award from the Canadian Screen Awards and Best Director of a Canadian Film from the Vancouver Film Critics Circle. The Toronto Film Critics Association Awards 2014 named the film as the Best Canadian Film of the Year.

The 2015 crime drama flick 'Sicario' directed by Villeneuve also emerged as a smashing hit grossing around $80 million worldwide. The critically acclaimed film was nominated for the Palme d'Or at the 2015 Cannes Film Festival and also earned three nominations each from both the Academy Awards and the BAFTA.

He next directed the American science fiction flick 'Arrival' that was premiered at the Venice Film Festival on September 1, 2016 and then released in the US and Canada on November 11 that year. The film starring Jeremy Renner, Amy Adams and Forest Whitaker was based on Ted Chiang's 1998 short story 'Story of Your Life' and became a smashing hit at the box office grossing over $203 million worldwide.

'Arrival' received kudos from the critics apart from earning several awards. These included the 'Best Sound Editing' award at the 89th Academy Awards where the film also earned several other nominations in different categories including a Best Director nomination for Villeneuve. The film was chosen among ten Movies of the Year by the American Film Institute.

His forthcoming film is an American neo-noir science fiction titled 'Blade Runner 2049', a sequel of the 1982 flick 'Blade Runner' – the Harrison Ford starrer film that inspired him to become a filmmaker.

'Blade Runner 2049' is slated for a worldwide release on October 6, 2017, in 2D, 3D and IMAX 3D. Harrison Ford is reprising his role as Rick Deckard in the film starring opposite Ryan Gosling.

Villeneuve is also on his way to direct film adaptation of the crime novel 'The Son' by Jo Nesbo and that of the epic science fiction novel 'Dune' by Frank Herbert.

Recommended Lists:

Recommended Lists:

Personal Life & Legacy

He was first married to Canadian film and television actress Macha Grenon. He has three children from his first marriage.

Presently, he is married to Tanya Lapointe, a cultural reporter.

1. Incendies (2010)

(Mystery, Drama, War)

2. Prisoners (2013)

(Mystery, Drama, Crime, Thriller)

---

3. Blade Runner 2049 (2017)

(Thriller, Sci-Fi, Mystery, Drama)

4. Arrival (2016)

(Mystery, Drama, Thriller, Sci-Fi)

---

---

5. Sicario (2015)

(Mystery, Drama, Action, Thriller, Crime)

6. Next Floor (2008)

(Short)

---

---

---

7. Polytechnique (2009)

(Drama, History, Crime)

8. Maelström (2000)

(Drama)

---

---

---

---

Translate Wiki

to Spanish, French, Hindi, Portuguese

Article Title

- Denis Villeneuve Biography

Author

- Editors, TheFamousPeople.com

Website

- TheFamousPeople.com

URL

-

https://www.thefamouspeople.com/profiles/denis-villeneuve-10647.php

Last Updated

- July 29, 2017

---

---

---