Dave Matthews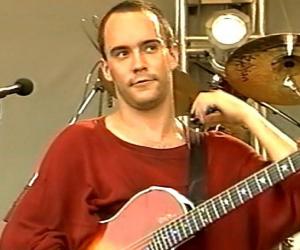 Quick Facts
Nationality: American, South African
Age: 52 Years, 52 Year Old Males
Sun Sign: Capricorn
Also Known As: Dave Matthews Band
Born Country: South Africa
Born in: Johannesburg
Famous as: Lead vocalist and guitarist for the Dave Matthews Band.
Height: 1.89 m
political ideology: Democratic
Family:
Spouse/Ex-: Jennifer Ashley Harper
father: John Matthews
mother: Valerie Matthews
siblings: Anne Matthews, Jane Matthews, Peter Matthews
children: Grace Anne, Stella Busina
Net worth: $300 million as of Jul 4, 2016
More Facts
education: St Stithians College
Continue Reading Below
For many centuries now, the world has seen the rise and fall of some great musicians. The songs of a few such talented ones, especially from the 20th century, have been unforgettable. Dave Matthews is one of the few modern day musicians who have made a lasting impression on the minds of music lovers and critics alike. Unlike most of his musician contemporaries, Dave also experimented with another popular craft, acting. Even while he was busy with band related commitments, Dave essayed small yet significant roles in quite a few movies, such as 'You Don't Mess With The Zohan' and 'Lake City'. In a career spanning more than three decades, Dave has managed to grab a few laurels, including the famous Grammy. Dave also took an active interest in important political events of America. Through his musical gigs, he encouraged the youth of his country to vote and often showed his liking towards the Democrats. Though a few sections of the American society questioned Dave's origins, he has successfully managed to win the hearts of the people, who have accepted him to be a 'Virginian'.
Recommended Lists:
Recommended Lists:
Continue Reading Below
Childhood & Early Life
Dave was born on January 9, 1967, to Valerie and John Matthews, in Johannesburg, South Africa. He was the third of the couple's four children. Dave's father worked for the IT giant, IBM.

Dave's family shifted base to New York when he was barely two-year-old, but post his father's death, they returned back to South Africa in 1977. During his short stay at New York, Dave witnessed a musical performance by Pete Seeger.

After graduating in the year 1985 from 'St. Stithians College', Dave faced the pressure to join the South African military service to fight against the growing problem of Apartheid in the region. However, he left the country to avoid being a soldier.

Continue Reading Below

Recommended Lists:

Recommended Lists:

Career

Matthews started working for IBM in 1986, at their office located in New York. After this short stint, Mathew moved to his ancestral town of Charlottesville in Virginia, a place where his musical career took wings.

Dave first became a part of a Charlottesville local band named 'Devastator'. After a few shows spanning over several months, the band split. During this time Dave also pursued other interests such as acting.

Dave later collaborated with the well known guitarist, Tim Reynolds. This collaboration paved way for Dave's first musical performance named 'Miki Liszt Dance Company'.

Dave, later, penned a few singles such as "Recently", "I'll Back You Up", and "The Song that Jane Likes". At this time Dave first thought of starting his own musical venture.

Dave finally formed his band in 1991. The band was christened 'Dave Matthews Band', and consisted of members like Carter Beauford, LeRoi Moore, Stefan Lessard, and Peter Griesar. Their first gig was a fund raiser for the 'Middle East Children's Alliance'.

The year 1994 saw the release of the band's debut album named 'Under The Table and Dreaming'. The album went on to become a chartbuster in the 'Billboard 200' countdown, and even managed to secure the 11th spot.

The 'Dave Matthews Band' released their second album titled 'Crash' two years later. This album didn't manage to impress their listeners as much as the previous one. However, the band's performance of the album's songs at Madison Square Garden was well appreciated.

Continue Reading Below

In the late 1990's, the band released two other albums titled 'Live at Red Rocks' and 'Before These Crowded Streets'. The latter went on to rule the music charts during the time of its release, and managed to gain the No. 1 position.

Dave also lent his voice to the songs of other bands such as 'Blue Man Group'. He sang a track named 'Sing Along', for the group's second album named 'Complex' which was released in 2003.

Even while he was busy with the commitments of his band, Dave released his debut solo album named 'Some Devil'. A single called 'Gravedigger' from the album went on to become a chartbuster, and even won Dave Matthews a Grammy.

Dave has also acted in more than a dozen movies, and also in a few plays. Though these roles are of less significance, Dave was well remembered for his acting skills. Some of his works include the Adam Sandler starrer 'You Don't Mess with the Zohan', 'I Now Pronounce You Chuck and Larry', 'Lake City', and 'In the Woods'.

Recommended Lists:

Recommended Lists:

Major Works

Other than being the founder of the famous 'Dave Matthews Band', Dave is also known for his solo album 'Some Devil', which won him a Grammy award. It's believed that over many years, Dave had penned songs which didn't fit into the kind of music which his band played, which motivated Dave to make such a move.

Recommended Lists:

Recommended Lists:

Awards & Achievements

The Dave Matthews Band was nominated for the prestigious Grammy awards for three of their albums namely 'Under the Table and Dreaming', 'Before these Crowded Streets' and 'Big Whiskey and Grug Grux King'.

Continue Reading Below

In 1997, the band finally won a Grammy for their rock song 'So much to say'.

Dave became a recipient of the 'Orville Gibson Award for Best Acoustic Guitarist' in 2002.

The song 'Gravedigger', from Dave Matthews' debut album titled 'Some Devil', fetched him a Grammy award in the year 2004.

Dave was honoured with a 'D.M.A honoris causa', by the Pennsylvania based Haverford College in 2005.

Recommended Lists:

Recommended Lists:

Personal Life & Legacy

Dave had lost his father to Lung Cancer in 1977. If few biography writers are to be believed, this could have possibly been an inspiration for the lyrics of the song 'Carpe Diem'.

One of Dave's toughest phases was the tragic deaths of his sister and brother-in-law. The tragedy disturbed Dave Matthews greatly, and also significantly influenced the music in the later part of his career.

In 2000, Dave got married to his girlfriend Jennifer Ashley Harper after a long period of courtship. The couple is blessed with three children, twin daughters named Grace Anne and Stella Busina, as well as a son named Oliver, who was born in 2007.

Recommended Lists:

Recommended Lists: