Connie Chung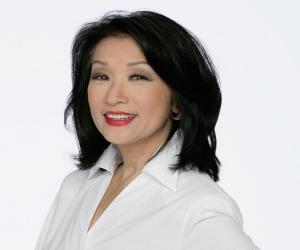 Quick Facts
Nationality: American
Famous: Journalists American Women
Age: 72 Years, 72 Year Old Females
Sun Sign: Leo
Also Known As: Constance Yu-Hwa Chung Povich
Born in: Washington, D.C., United States
Famous as: Journalist
Height: 1.55 m
Family:
Spouse/Ex-: Maury Povich
father: William Ling Chung
mother: Margaret Ma
children: Matthew Jay Povich
U.S. State: Washington
Net worth: $15 Million as of Jan 15, 2017
Continue Reading Below
Constance Yu-Hwa Chung Povich, popularly known as Connie Chung, is a well-known American journalist of Chinese origin. During her career, she has worked as an anchor as well as a reporter for the U.S. television news networks such as NBC, CBS, ABC, CNN and MSNBC. She launched a program 'Eye to Eye with Connie Chung' which became quite popular across the country. The program was mixed with news and celebrity-friendly feature interviews. Though the program was popular among viewers, Chung was criticized for focusing more on entertainment rather than news. In 1993, she became only the second woman to co-anchor CBS Evening News, along with being the first Asian American woman to become an anchor in a major network newscast of the United States of America. She has conducted several famous interviews as well, including that of the US Representative Gary Condit, who was interviewed after the Chandra Levy disappearance. She also interviewed the famous basketball player Earvin Johnson after he announced publicly that he was HIV-positive. She gained controversy after the Oklahoma City bombing in 1995 because of an inappropriate question which she had posed to a fireman during an interview. Her question was considered highly insensitive to the situation and resulted in protest letters from the viewers. After much public outcry, she was laid off as a co-anchor of the CBS Evening.
Recommended Lists:
Recommended Lists:
Continue Reading Below
Childhood & Early Life
Connie Chung was born as Constance Yu-Hwa Chung on 20 August 1946 in Washington DC in the United States. Her father's name was William Ling Chung; he served as an intelligence officer in the Chinese Nationalist Government. Her mother's name was Margaret. The couple had five children, Connie being the youngest one.

After she completed her graduation from Montgomery Blair High School in Silver Spring, Maryland, she went to the study journalism at the University of Maryland, College Park. She received her degree in 1969.

Recommended Lists:

Recommended Lists:

Career

Connie Chung's career began in the early 1970s, when she started working as a correspondent for the 'CBS Evening News' with Walter Cronkite. Later, she left the position after she was invited to work at the Los Angeles CBS affiliate KNXT, where she started working as the anchor of the CBS Newsbriefs.

She also made a film appearance in 1984. In the movie 'Moscow on the Hudson,' she appeared alongside the famous Robin Williams, playing the role of a reporter. The film was directed by Paul Mazursky. The story is about the defection of a Russian musician, played by Robin Williams, who works with the Moscow Circus. The film was reviewed positively by critics.

Meanwhile in her journalistic career, she had moved to NBC in 1983. Within a few years, she became one of the most popular TV journalists of the country.

Later in 1989, she signed a three-year deal with CBS. Then she launched a program called 'Eye to Eye with Connie Chung.' Though it received mixed reviews, it became quite popular. She was criticized by media critics, who said that she was focusing on entertainment over information. The series typically used to run around four to five stories in each one hour installment. However she quit in 1990 stating that she was leaving the program as she was planning to have a baby.

In 1992, she became the first person to interview Earvin Johnson Jr., popularly known as Magic Johnson, after he announced publicly that he was HIV positive.

In 1995, she had an interview with Kathleen Gingrich, mother of Newt Gingrich, the Republican politician who had served as the 50th speaker of the US House of Representatives. Chung gained controversy for asking Gingrich what her son thought about First Lady Hillary Clinton, and then telling her to just "whisper it to her" when Kathleen refused to comment on air.

Connie Chung gained controversy once again following the Oklahoma City bombing in April 1995. She was widely criticized for a sarcastic and insensitive question that she posed to an Oklahoma City Fire Department spokesman. Thousands of protest letters were written after which she was laid off as the co-anchor of the CBS Evening News. She was then demoted to the post of a weekend anchor. However, Chung soon left the network.

Continue Reading Below

She soon joined ABC News as a reporter, where she co-hosted the Monday edition of the program named '20/20' alongside Charles Gibson, another well-known American journalist. She conducted multiple famous interviews including the one with Gary Condit, which was focused on his relationship with Chandra Levy, an American intern at the Federal Bureau of Prisons, whose murder remained a big mystery for years.

In 2002, she started hosting her own show on CNN which was named 'Connie Chung Tonight.' The show performed well initially but it was suspended during the 2003 Iraq War when Chung was assigned other journalistic duties.

Chung gained controversy yet again for her 2002 interview with Martina Navratilova, the famous tennis player. Since Martina was a critic of the political system of America, Chung labeled her 'un-American' and 'un-patriotic.' She also suggested that Martina Navratilova should go back to Czechoslovakia.

Later in 2006, along with Maury Povich, Connie Chung hosted a program 'Weekends with Maury and Connie' on MSNBC television. However, the show didn't gain much popularity and went off-air soon.

She was offered a teaching fellowship at the John F. Kennedy School of Government at the Harvard University, which she accepted.

Recommended Lists:

Recommended Lists:

Major Works

Connie Chung gained much popularity as the host of the CBS news show 'Eye to Eye With Connie Chung' that aired from 1993 to 1995. Along with popularity, it also earned her some notoriety as she was criticized for not maintaining her professional decorum during an interview with the then-Speaker of the House Newt Gingrich's mother, Kathleen.

Another one of her popular shows was the 'Connie Chung Tonight,' a television newsmagazine hosted by her. The show, which started airing in June 2002, was a moderate success. However, it was suspended with the start of the 2003 Iraq War as Chung was now required to take on other journalistic responsibilities related to the war.

Awards & Achievements

Connie Chung has received numerous awards during her career for her contributions to journalism. These include certificate of achievement by the US Humane Society in 1969 for a series of broadcasts that helped enhancing public awareness of cruelty in seal hunting.

She was named outstanding young woman of the year in 1975 by 'Ladies' Home Journal' and was nominated for woman of the year as well.

She has also received honorary doctorates in journalism from several universities.

Personal Life & Legacy

Connie Chung is married to renowned American TV presented Maury Povich, with who she had co-hosted the show 'Weekends with Maury and Connie' on MSNBC. The couple adopted a son named Matthew in 1995.

Translate Wiki

to Spanish, French, Hindi, Portuguese

Article Title

- Connie Chung Biography

Author

- Editors, TheFamousPeople.com

Website

- TheFamousPeople.com

URL

-

https://www.thefamouspeople.com/profiles/connie-chung-29917.php

Last Updated

- February 20, 2017

---

---

---