Anna Nicole Smith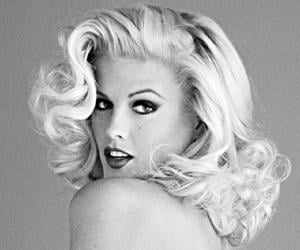 Quick Facts
Birthday: November 28, 1967
Nationality: American
Famous: Lesbians Died Young
Died At Age: 39
Sun Sign: Sagittarius
Also Known As: Vickie Lynn Hogan
Born in: Harris County
Famous as: Actress, Model
Family:
Spouse/Ex-: Billy Wayne Smith (m. 1985–1993), J. Howard Marshall (m. 1994–1995)
father: Donald Eugene Hogan
mother: Virgie Mae
siblings: Donna Hogan
children: Daniel Wayne Smith, Dannielynn Marshall
Died on: February 8, 2007
Cause of Death: Drug Overdose
U.S. State: Texas
More Facts
education: Durkee Elementary School, Mexia High School, Aldine Intermediate School
Continue Reading Below
Anna Nicole Smith was the epitome of the classic voluptuous blonde in the mid 90s. Her life story is the story of a woman who was flamboyant and went rags-to-riches. Even though she was a school drop-out and had a disturbed family life, she always wanted to make it big in life by hook or crook. She gained the publicity by posing for 'Playboy' magazine. She also modeled for the international magazines such as Vogue, Vanity Fair, The Face etc. She garnered lot of attention by marrying the 89 year old oil tycoon J. Howard Marshall II when she was just 26 years of age. She was desperately trying to build her career in movies. She got few roles in films and TV series. She was always given a role to cash in her sex symbol image. Whatever she did was the topic of headlines. Even after her death, she continues to be a subject of great fascination and speculation to this day. Her life and sudden death has inspired numerous books, documentaries and movies.
Continue Reading Below
Childhood & Early Life
Anna was born on 28th November, 1967 in Houston and was raised in Mexia, Texas by Donald Hogan and Virgie Mae. Her mother was working as sheriff's deputy.

After her parents' divorce in 1969, Anna was raised by her mother and aunt. She had a difficult childhood. She attended Durkee Elementary School and Aldine Senior High School in Houston. However, she dropped out of the school.

As a teenager she worked at local fried chicken restaurant where she met a cook, Billy Smith. At the age of 17, in 1985, she married Billy and had a son named Daniel a year later. Anna and Billy separated in 1993.

After the separation, she moved to Houston and started doing odd jobs such as working at Wal-Mart and exotic dancer at a strip club.

Continue Reading Below

Recommended Lists:

Recommended Lists:

Career

In 1992, she shot to fame when she modeled for 'Playboy' magazine. Immediately, she became the modeling sensation. She also appeared in advertisements for 'Guess' fashion brand later that same year.

In 1993, she modeled for Swedish clothing company H&M.

In 1994, she appeared in the comedy series 'The Hudsucker Proxy'. She appeared as a celebrity who flirts with the lead character. The same year she also appeared in the movie 'Naked Gun 33 1/3: The Final Insult'. This film was a commercial success. Both these roles were small. After this she remained in the news by appearing in many celebrity magazines. She enjoyed being in news and all the attention she was garnering from media.

The film 'To The Limit' fetched her the lead role and released in 1995. In this film, she portrayed a retired spy seeking revenge of murderer of her husband. This film was not successful. She appeared as herself in the pilot episode of 'The Naked Truth'.

In 1996, she again tried to make a place in Hollywood by playing a lead role in 'Skyscraper'. This was a low budget, direct to video movie. This film too did not do well and her film career got stalled.

Thereafter, she turned to small screen. She appeared in 'Sin City Spectacular' in 1998. The same year, she appeared in tell-all, self promoting film 'Anna Nicole Smith: Exposed'. This film was based on her 'Playboy' tenure.

In 1999, she played the role of Veronica Chase's friend in sitcom 'Veronica's Closet'. She also played a guest role in 'Ally McBeal'.

Continue Reading Below

In 2002, her daily life was brought in front of people with a reality show 'The Anna Nicole Show'. Even though for major part of this show, she seemed to be disoriented or confused; the show was a big hit.

She returned to film acting in 2003 with a comedy film 'Wasabi Tuna'.

In her entire career, she struggled with her weight on and off. Her weight was 224lbs in 1996, which she brought down to 138lbs in 1997. Hence, she represented line of diet products in 2003. She also did some modeling during this period.

In 2006, she starred in science fiction comedy 'Illegal Aliens'. Her son Daniel also appeared with her on this project.

Even after death, she continued to inspire movies and books. In 2011, an opera titled 'Anna Nicole: telling Smith's tragic tale in song' was launched in London. Lifetime TV network released 'The Anna Nicole Story'.

Recommended Lists:

Recommended Lists:

Major Works

Her reality show 'The Anna Nicole Show', released in 2002, was a success. This show was created to cash on her rising popularity with gossip columnist. This show was given the highest cable rating. This show featured herself, her son Daniel, assistant Kimberly Walther, her gay interior decorator Bobby Trendy, her cousin Shelly Cloud, her poodle 'Sugar Pie' and lawyer / boyfriend Howard K. Stern. The show had created quite a stir in college students and pop fans. Still second season of this show was not aired because till that time, the chAnnal had lost interest in the show.

Recommended Lists:

Recommended Lists:

Awards & Achievements

In 1993, she was one of the beauties who had been selected as 'Playmate of the year' by Playboy magazine. This magazine gave her the identity and created her sex symbol image which stuck to her for whole life.

Recommended Lists:

Recommended Lists:

Personal Life & Legacy

She was born as Vickie Lynn Hogan. During one of the advertisement assignments she changed her name to Anna Smith.

She was not happy with the small town life in Mexia and wanted to make it big in life. Hence, she came to Houston and started working as a dancer in a strip club. In 199she met J. Howard Marshal II at this club. He was an American business magnet.

Anna and Marshal got married in 1994 and remained married until his death in 1995. Their marriage created a huge controversy as at the time of marriage, she was 26 years old whereas he was 89 years of age. She allegedly married Marshal only for his estate.

After Marshal's death, she filed a case against her former step son E. Pierce Marshall, for half of her late husband's estate, worth $1.6 billion. J. Howard Marshall II's contested will had been drawn up soon after his marriage to Smith and neither she nor his younger son was mentioned in it. She claimed that he had verbally promised her half of his fortune if she married him. She fought a lengthy legal battle. In September 2005, the case reached the US Supreme Court and on 1st May, 2006 she won the chance to pursue her claims in a federal court. However, her life took tragic turns thereafter.

She delivered her second baby on 7th September 2006 in Bahamas. She named this baby girl Dannielynn. However, just after three days of birth of her daughter, Daniel, her 20 year old son, died in the same hospital room from an apparent drug overdose.

Continue Reading Below

After her son's death, she again became the subject of headline and gossip over paternity issue of her daughter. Her ex-boyfriend and photographer Larry Birkhead, claimed to be Dannielynn's father. However, Anna stated that her attorney, Howard K. Stern, was her daughter's father, and he was listed on the birth certificate. In the midst of all the paternity issue, Anna and Stern held a small mock commitment ceremony. However, this ceremony was not legally binding.

On 8th February 2007, at the age of 39, she died after being unconscious in her hotel room in Florida. Her death was supposed to be from overdose of drugs which she was addicted to.

After her death, DNA test certified that Larry Brickhead was biological father of her daughter.

Net Worth

As on 2015, her net worth is estimated to be $ 50million.

Trivia

When she got married to Howard Marshal, she took off for Greece without him. They were not even staying together in his last days.

She filed for bankruptcy in 1996 when a former female assistant sued her for $850,000 on sexual harassment charges

Merlin Monroe was her idol.

She supported anti-fur movement. She also appeared in the advertisements for animal rights group 'PETA'.

1. The Hudsucker Proxy (1994)

(Comedy, Fantasy, Drama)

2. Naked Gun 33 1/3: The Final Insult (1994)

(Comedy, Crime)

---

3. Be Cool (2005)

(Crime, Comedy, Music)

Translate Wiki

to Spanish, French, Hindi, Portuguese

Article Title

- Anna Nicole Smith Biography

Author

- Editors, TheFamousPeople.com

Website

- TheFamousPeople.com

URL

-

https://www.thefamouspeople.com/profiles/anna-nicole-smith-3617.php

Last Updated

- August 17, 2018

---

---

---