Aniello Dellacroce
Biography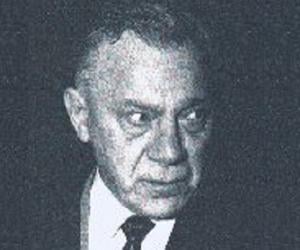 Quick Facts
Nationality: American
Famous: Gangsters American Men
Died At Age: 71
Sun Sign: Pisces
Also Known As: 'The Tall Guy,' 'Father O'Neil' and 'Mr. Neil'
Born Country: United States
Born in: New York City
Famous as: Gangster
Height: 1.78 m
Family:
Spouse/Ex-: Lucille Riccardi
father: Francesco Dellacroce
mother: Antoinette Dellacroce
siblings: Carmine
children: Shannon Connelly
Died on: December 2, 1985
place of death: Queens
Continue Reading Below
Aniello Dellacroce, also infamously known as "The Tall Guy," "Father O'Neil" and "Mr. Neil," was a gang member of the Italian Mangano crime family (later the Gambino gangster family) operating in New York. He began as a capo and soon climbed up the ladder within the organized crime family. He was a tall man with deep-set eyes and broad shoulders that intimidated most men. He carried out various illegal activities, including racketeering, theft, hijacking, extortion, and even alleged murders for the Gambino boss. He trained his underling John Gotti who eventually became the Gambino boss. He was sometimes referred to as "the Polack," a derogatory slang alluding to his square-shaped face, behind his back. He was also referred to as "Father O'Neil" because he often disguised himself as a priest to evade the authorities and rival gangsters. It is alleged that he even murdered a man while dressed as a priest. He was a man who liked to keep a low profile, and it was rumored that he used body doubles so that he could carry out his activities while the authorities chased the doubles. Several former detectives, investigators, and news reporters have described his eyes, saying they were of a killer, without a hint of any emotion, devoid of any soul and frightening.
Recommended Lists:
Recommended Lists:
Childhood & Early Life
Aniello Dellacroce was born on March 15, 1914, in New York, the United States. His parents, Francesco and Antoinette Dellacroce, were first-generation immigrants from Italy. His brother was named Carmine. His family lived in Little Italy in Manhattan.

In his teens, he worked as a butcher's assistant but soon turned to crime like many other boys of his age in the area he lived. He was also arrested once for petty theft.

Continue Reading Below

You May Like

Recommended Lists:

Recommended Lists:

Criminal Activities

Aniello Dellacroce's career in the world of organized crime began in the late 1930s when he joined the Mangano crime family. Albert Anastasia was the Mangano family underboss, and he took Dellacroce under his wing.

Albert Anastasia was also known as the "Executioner" of the organization. Dellacroce followed him into the Magano Family, which was later known as the notorious Gambino family.

Vincent Mangano was the boss leading the family, and when he suddenly disappeared, Albert Anastasia became his successor, and he promoted Dellacroce to the caporegime of the family.

Aniello Dellacroce was soon making a lot of money and purchased the Ravenite Social Club in Little Italy, which was a hub for all his illegal activities. It also had become a popular spot where the Gambino members socialized.

On October 25, 1957, Anastasia was shot in a barbershop in Manhattan and the underboss Carlo Gambino took control of the family.

It was assumed that Carlo Gambino had conspired to murder his boss with Tommy Lucchese of the Lucchese crime family and Vito Genovese of the Genovese crime family.

However, for Dellacroce, family loyalty came first, and even though he was an ardent follower and supporter of Anastasia, he swore allegiance to Carlo Gambino and the family.

In 1965, Gambino removed the aging underboss, Joseph Biondo, and appointed Dellacroce as the new underboss of the family.

In 1971, Aniello Dellacroce was sentenced on the grounds of contempt for a term of one year for failure to answer questions about organized crime posed by a grand jury.

Continue Reading Below

On May 2, 1972, he was charged by the federal authorities for tax evasion. He was tried for not paying taxes on stocks worth $112,500, and by 1973, he was given a five-year prison sentence.

In 1976, Carlo Gambino was at the brink of death when he announced Paul Castellano as his successor and the new boss. Paul was his brother-in-law. It had been presumed that Dellacroce would replace Gambino, but that did not come to pass.

By now, Dellacroce headed several crews and was supported by many members. Gambino's decision made many members furious. Dellacroce and other members saw Castellano more as a businessman than as a mobster boss and therefore, unfit for the position.

In order to diffuse the building tension, Gambino announced Aniello Dellacroce as the underboss of the family.

Gambino passed away in 1976, and Dellacroce committed to Castellano as the new boss. Castellano gave him the authority over activities like extortion, robbery, and hijacking in Manhattan.

The Gambino family had strict rules against drugs and its distribution by the organization. Castellano upheld this ban; however, the younger members disagreed with him, which caused a rift in the group.

Dellacroce's protégé and capo, John Gotti, saw dealing in drugs as a lucrative business idea and was among the dissidents. By now, Gotti was up to his neck in drug trafficking and distribution. Eventually, he and his crew were indicted with conspiracy to sell heroin.

Aniello Dellacroce followed Castellano's orders on drug ban, and Castellano had intended to kill anyone who disobeyed his orders.

In 1985, the Mafia Commission investigation was set up, and Dellacroce was charged with racketeering charges. Other members of the New York Cosa Nostra – "Five Families" were also charged. However, Dellacroce had cancer and was too ill to be able to go to trial or get sentenced as he did not have long to live.

Death

Aniello Dellacroce died on December 2, 1985, when he was 71 years of age. His health had been deteriorating for a while as he suffered from lung cancer. He died at the Mary Immaculate Hospital in Queens, New York, and was buried in Saint John's Cemetery, Queens.

Aftermath

Aniello Dellacroce's death had a significant impact on the already divided Gambino family and other crime families in New York.

After his death, Gotti had already made arrangements to remove Castellano from the top position. Furthermore, Castellano had refused to visit Dellacroce during his final days and reportedly did not attend his funeral, which was perceived as disrespectful by Gotti and his supporters.

Two weeks after Dellacroce's death, John Gotti and Sammy Gravano conspired to kill Castellano.

Paul Castellano and his new underboss Thomas Bilotti were gunned down and killed outside Sparks Steak House, Manhattan, on December 16, 1985. Castellano's death resulted in Gotti taking over as the head of the Gambino family.

The estimated earning of the Gambino family at the time of Dellacroce's death was $1million per day.

Family & Personal Life

Aniello Dellacroce was first married to Lucille Riccardi. He fathered a child with Elizabeth Main out of wedlock and called him Ronald. In his later years, he married Rosemary Connelly. He had four children.

He eventually moved from Little Italy to Grasmere in Staten Island.

In April 1988, his son Armand died of liver cirrhosis and cocaine overdose in Pennsylvania.

Translate Wiki

to Spanish, French, Hindi, Portuguese

Article Title

- Aniello Dellacroce Biography

Author

- Editors, TheFamousPeople.com

Website

- TheFamousPeople.com

URL

-

https://www.thefamouspeople.com/profiles/aniello-dellacroce-19208.php

Last Updated

- January 08, 2020

---

---

---