Adam Montoya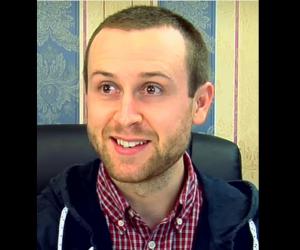 Quick Facts
Nationality: American
Age: 34 Years, 34 Year Old Males
Sun Sign: Gemini
Born in: San Diego, USA
Famous as: YouTuber, video game commentator
Height: 1.8 m
Family:
mother: Mat Montoya
U.S. State: California
More Facts
education: San Diego State University
Continue Reading Below
Adam Montoya is one of the most loved YouTubers for his gaming sensation of a channel called 'SeaNanners.' An avid gamer himself, his channel is everything that will make another gaming geek scream with joy and probably get hooked on for hours straight- without regrets. But gaming isn't the only thing that he's great at, Adam's commentaries that explode with insane rants and sense of humor is another reason that will turn you into his fan! With gaming video uploads that range from 'Minecraft' to 'Sims', his talent of tackling any level or any genre is commendable and once you dive into his channel, you will witness it first-hand too! The popularity of SeaNanners has been growing by leaps and bounds ever since it debuted in the year 2009. Now with over 5.7 million subscribers and over a whopping 2.3 billion views on the channel, does SeaNanners need more validation to prove its brilliance?
Recommended Lists:
Recommended Lists:
Continue Reading Below
The Meteoric Rise To Stardom
Adam Montoya's rise to fame wasn't a planned one- it's an outcome of a burst of inspiration that hit him while he was working in a regular job. Before even processing the thought of starting a YouTube channel, Adam worked as a host for the Respawn Team at Machinima.com. It was during this phase that he came across early YouTubers who had nailed the art of gaming and commentary. Deciding to try his hand at the same, Adam created a channel named SeaNanners in the year 2009, and safe to say, it was a pretty good decision! After the channel gained initial hype for his 'Call of Duty' commentaries, he eventually switched gears to PC games and 'Minecraft' which now stands as the number one reason for his success. With tons of gaming video uploads that fetched him enough fame to make his channel popular among the gaming buffs, Adam quit from Machinima.com to focus on his new found career. Now a channel with over a whopping 5.7 million subscribers, SeaNanners has not only hosted some of the best gaming sessions, but has also seen unprecedented success with Adam's incredible strategies and skills. With insane animations and gaming commentaries, his channel has been screaming of all things awesome, which reasonably states as to why his viewers are his loyal fans. Not just gaming and commentaries, Adam has taken things a notch higher and is now seen in a 'YouTube Red' series called 'The Paranormal Action Squad.' Needless to point out, this young man surely has aced all the right techniques to become one of the best gamer/YouTubers; just ask his 5.7 million fans who are obviously hooked on to every single video of his!

Recommended Lists:

Recommended Lists:

Continue Reading Below

What Makes Adam Montoya So Special

Adam's channel is glitzing with top-notch games that require high levels of expertise, but the one thing that makes it look effortless and fun is his sense of humor. His one-liners and comebacks certainly make the rather intense gaming sessions exhilarating and hilarious; no wonder his fans multiply at the speed of light!

Beyond Fame

Adam Montoya met his current girlfriend, Cathy Diep, while still working at Machinima.com, where she worked with the marketing department. Even though their relationship was initially kept secretive, Cathy soon started appearing in many of his videos. Raising eyebrows, his fans concluded that they both were married but Adam confirmed that they are only dating. A gamer herself, Cathy also has a gaming YouTube channel called Catabot, where Adam is seen as a frequent guest.

Behind The Curtains

Adam Montoya was born on June 12, 1984, in San Diego, California, USA. Most of his personal life is kept guarded, but according to some sources he has a sibling- a sister. He graduated from San Diego University and was a Television, Film, and New Media Production student. Apart from creating and editing YouTube videos, Adam is also passionate about skateboarding and other sports.

Last Updated : January 23, 2017

Translate Wiki

to Spanish, French, Hindi, Portuguese

---

---

---

Adam Montoya Fans Also Viewed