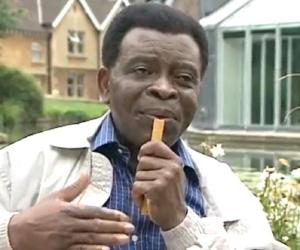 Birthdate: July 15, 1929
Sun Sign: Cancer
Birthplace: Douala, Cameroon
Died: May 28, 2001
2
Simon Mol
(Journalist, Activist)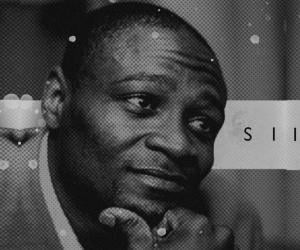 Birthdate: November 6, 1973
Sun Sign: Scorpio
Birthplace: Buea, Cameroon
Died: October 10, 2008
3
Mongo Beti
(Cameroonian Author, Novelist and Political Essayist)
Birthdate: June 30, 1932
Sun Sign: Cancer
Birthplace: Cameroon
Died: October 8, 2001
Cameroonian writer Mongo Beti is remembered for his controversial satirical novels such as Le Pauvre Christ de Bomba. Expelled from his missionary school in Mbalmayo for his vocal nature, he later studied at the Sorbonne. His works also spoke about colonialism, negritude, and the ill-effects of French Catholic missionary activities.
4
Ferdinand Oyono
(Diplomat) Birthdate: September 14, 1929
Sun Sign: Virgo
Birthplace: Ngoule Makong, Cameroon
Died: June 10, 2010
Birthdate: November 13, 1930
Sun Sign: Scorpio
Birthplace: Ngaoundéré, Cameroon
Died: October 25, 2001



Birthdate: October 26, 1961
Sun Sign: Scorpio
Birthplace: Douala
Birthdate: 1970 AD
Birthplace: Yaoundé, Cameroon
Birthdate: 1980 AD
Birthplace: Michigan, U.S.
9
Mbella Sonne Dipoko
(Novelist) Birthdate: February 28, 1936
Sun Sign: Pisces
Birthplace: Cameroon
Died: December 5, 2009
10
Werewere Liking
(Actress, Writer)
Birthdate: May 1, 1950
Sun Sign: Taurus
Birthplace: Cameroon
Birthdate: 1985 AD
Birthplace: Douala, Cameroon
12
Rabiatou Njoya
(Cameroonian Writer)
Birthdate: October 15, 1945
Sun Sign: Libra
Birthplace: Cameroon
Died: April 9, 2021
13
Djaili Amadou Amal
(Writer, Feminist)
Birthdate: 1975 AD
Birthplace: Maroua, Cameroon
Birthdate: May 8, 1954
Sun Sign: Taurus
Birthplace: Mamfe, Cameroon
Died: March 8, 2007
Birthdate: January 4, 1962
Sun Sign: Capricorn
Birthplace: Lausanne, Switzerland
16
Sahndra Fon Dufe
(Actress, Author)
Birthdate: October 28, 1989
Sun Sign: Scorpio
Birthplace: Yaoundé, Cameroon
Birthdate: March 17, 1969
Sun Sign: Pisces
Birthplace: Douala, Cameroon
Died: January 22, 2020
Birthdate: 1959 AD
Birthplace: Cameroon
19
Delphine Zanga Tsogo
(Politician, Writer)
Birthdate: December 21, 1935
Sun Sign: Sagittarius
Birthplace: Lomie, Cameroon
Died: July 16, 2020
20
Marie-Therese Assiga Ahanda
(Novelist) Birthdate: 1941 AD
Birthplace: Yaoundé, Cameroon
Died: February 1, 2014
21
Jean-Pierre Dikongué Pipa
(Film director)
Birthdate: 1940 AD
Birthplace: Douala, Cameroon
22
Marthe Ekemeyong Moumié
(Writer)
Birthdate: September 4, 1931
Sun Sign: Virgo
Birthplace: Cameroon
Died: January 8, 2009
23
Claude Njiké-Bergeret
(Writer)
Birthdate: June 5, 1943
Sun Sign: Gemini
Birthplace: Douala, Cameroon
24
Severin Cecile Abega
(Anthropologist, Writer) Birthdate: November 22, 1955
Sun Sign: Sagittarius
Birthplace: Sa'a, Nkolmesing, Cameroon
Died: March 24, 2008
25
Guillaume Oyono-Mbia
(Dramatist)
Birthdate: 1939 AD
Birthplace: Mvoutessi, Cameroon