Willow Shields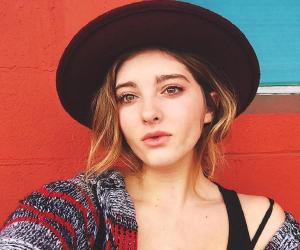 Quick Facts
Nationality: American
Age: 18 Years, 18 Year Old Females
Sun Sign: Gemini
Born in: Albuquerque, New Mexico
Famous as: Actor and Dancer
Family:
father: Rob Shields
mother: Carrie Shields
siblings: Autumn Shields (sister), River Shields (brother)
U.S. State: New Mexico
More Facts
Continue Reading Below
Sixteen-year-old Willow made a mark for herself in the film industry with her role as Primrose Everdeen in the film series 'The Hunger Games.' She co-starred with the popular and talented actress Jennifer Lawrence, and has gone places since she bagged the role. Both her siblings are also actors and though she wanted to take up engineering as a profession, she finally turned to acting and was welcomed warmly by the industry. This young girl began her acting career when she was only seven years old. Willow is multi-talented and possesses great dancing skills; she also participated in season 20 of 'Dancing with the Stars.' Her videos and photos are quite a sensation owing to her photogenic looks and she has over a million followers on Instagram and nearly 300K fans on Twitter. On Facebook she has several fan pages dedicated to her,projecting her current and recent works. She even has her own website showcasing her skills as an actor, model, dancer and photographer.
Recommended Lists:
Recommended Lists:
Continue Reading Below
The Meteoric Rise to Stardom
She has come a long way since her first break as a narrator, where she portrayed a little girl watching a gun fight and narrating events in the short film 'Las Vegas New Mexico 1875' in 2008. Earning success with her first stint, she appeared as Lisa Royal in the first episode of 'In Plain Sight' the following year. In 2011, she played Grace in the critically acclaimed 'Beyond the Blackboard.' With her exceptional performances, she landed the role of the little sister Primrose in 'The Hunger Games' film series, which spanned from 2012 to 2015. In 2012, she also starred in the episode 'Intruders' in 'R.L. Stine's – The Haunting Hour.' Once again in 2015 she played a character named Grace in 'A Fall from Grace.' Spreading her wings, the same year she also participated in the dance show 'Dancing with the Stars', where she showed profuse talent in dancing as well. She has recently been cast in the film 'Into the Rainbow' as the character Rachel that is all set to release in the year 2017.

Recommended Lists:

Recommended Lists:

Continue Reading Below

What Makes Willow So Special

It is her sheer perseverance and skill that has led her so far, being a young teenagershe could have been overcome by over-confidence, but in contrast she is hard working and sincere, not to mention that she exhibits excess humility. Her beautiful soul shines through her sparkling and gorgeous eyes, which doubles her external beauty. She is a humanitarian to the core, as she not only supports but also volunteers and is the voice of the 'Operation Smile', which is a charitable foundation rendering free surgeries to children who suffer from any form of facial deformity all around the globe. She is also a volunteer at several orphanages where she serves meals to the poor and homeless. She is an excellent student, and though she is homeschooled she gives education a lot of priority.

Beyond Fame

Apart from her prolific acting and dancing skills, she is an artist and a great photographer as well. She loves making handicrafts and always carries her camera with her on shoots, where she skillfully photographs sceneries and her co-stars. She is an avid reader, and is intrigued by the past and therefore she loves history. She can also play the guitar, and keeps herself mentally and physically fit by doing regular yoga. When on the red carpet she loves making fashion statements, she takes inspiration from Emma Watson and is keen on setting new style trends. She listens to alternative music and never fails to stay in touch with her friends, including her school friends who have stuck with her over the years, even after she left regular schooling.

Behind The Curtains

Born in New Mexico to Carrie and Rob Shields, an artist, she was brought up with plenty of care and support from her parents. She also has two siblings; both of them are actors too. Her brother River was most thrilled when she was cast in 'The Hunger Games.' The family is very fond of pets and she has four dogs, a cat and a chicken.She also used to have a duck and a goat. She gave up regular school in order to cope with shooting and travelling. She is single and isn't dating anyone, and agrees with all the decisions taken by her parents for her welfare. Today her net worth is more than 2 million dollars; she has achieved milestones with her determination and is all set to become a better actress with experience over the years. She is also good friends with her 'Hunger Games' co-star Jennifer Lawrence and claims to have learnt a lot from her.

Trivia

She has a twin sister named Autumn Shields, who is also an actress.

Last Updated : December 26, 2016

Translate Wiki

to Spanish, French, Hindi, Portuguese

---

---

---

Willow Shields Fans Also Viewed