Roi Fabito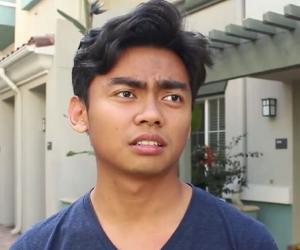 Quick Facts
Nationality: Filipino, American
Age: 27 Years, 27 Year Old Males
Sun Sign: Leo
Also Known As: RoiWassabi
Born Country: Philippines
Born in: Pangasinan
Famous as: YouTuber
Height: 1.68 m
Family:
siblings: Ariel, Reymound, Russell
More Facts
education: North Carolina State University
Continue Reading Below
Roi rose to fame in 2012, with his ever popular parody of 'Call Me Maybe.' The video has over a billion views and with that he turned his hobby into his career. Known as the founder of 'Wassabi Productions', a channel of music video parodies, which was later joined by Alex Burriss, Roi went on to create another channel called 'Guava Juice', primarily a gaming channel. He has four million subscribers on his new channel and has over seven million subscribers on his 'Wassabi Productions' channel. In order to help his second channel expand, Roi left 'Wassabi Productions' in 2016, and so has the character Rolanda that he played in it. However, his new channel is an equally huge hit! He has numerous followers on other social accounts as well with 786K followers on Instagram and 400K followers on Twitter.
Recommended Lists:
Recommended Lists:
Continue Reading Below
The Meteoric Rise to Stardom
It isn't surprising that Roi always possessed the talent to entertain and film. At the age of 12, taking his parent's camera that they hardly ever used, he began filming videos for his family and friends along with his companions Robby and Matt. He first created a YouTube account in 2005 and uploaded these videos; not only did his friends and family like his videos, but others did as well. However, it was in High School when he met Alex and asked him to join his group. Pleased to be working together, the duo created their own channel 'Hoiistroi', which later changed to 'Wassabi.'Together they made lip-sync, dance and other comic videos. However, during his college years, he took a break to focus on his studies and continued to make videos once again in 2012.This time it was music parodies, where Roi played 'Rolanda' and Alex played 'Richard.' Their channel became a huge hit, and overnight their videos went viral and earned them millions of viewers. After leaving 'Wassabi Productions', all his time has been dedicated to 'Guava Juice' channel, which has over 663 videos. He posts videos every day;they include game plays, challenges, silly DIY's and experiments.

Recommended Lists:

Recommended Lists:

Continue Reading Below

What Makes Roi Fabito So Special

When Roi was a little boy, he was extremely shy and timid. For him to be able to overcome his shyness and take over the internet is certainly commendable. It was an effort he had to make in order to break his shell and do what he liked the most. He has become a very confident individual, and at the same time is equally caring towards his family, friends and supporters. He is persevering: though it took a while for him to decide his career, he didn't give up and eventually recognized his talent. He continues to produce entertaining and quality videos earning him billions of supporters.

Recommended Lists:

Recommended Lists:

Beyond Fame

Though he is one of YouTube's biggest stars, he is a child at heart. Roi loves sports; he plays basketball and soccer in his leisure time.In school he was a part of the basketball team. His favorite color is blue. He loves food, especially Mexican cuisine. However, he is allergic to shrimps and carrots. Roi is an animal lover and has a dog. He is also crazy about latest gadgets and technology. He hangs out with his friends and girlfriend when he isn't recording, and spends most of his vacations with his family in North Carolina.

Behind the Curtains

Roi was born in Philippines. When he was two they moved to the United States, as his mother was offered a job in North Carolina. Two years later, he had a little brother, Reymound. Roi joined school soon after, and his initial school life was difficult, since he didn't know the English language. His parents enrolled him at an English Second Language program. This was beneficial as he quickly learnt the language. His second brother, Russell came along the same time. However, barely had he begun to settle down than his parents sent the three brothers back to Philippines to their grandparents because of financial constraints. He went to school there and was doing well, when his parents came back with another baby, Ariel. This time all of the siblings moved back to the US. After High School he went to Durham Tech Community College to study nursing. Due to lack of interest, he left it and joined North Carolina State University in a Computer Engineering course. Not finding himself doing well in engineering as well, he realized his love for YouTube and converted his major to Film Studies. After completing college he took up YouTube full time. He has a girlfriend named Monettee who appears in his challenges and videos on his channel.

Trivia

Roi created his first video when he was 12 years old on Windows Moviemaker.

Last Updated : February 15, 2019

Translate Wiki

to Spanish, French, Hindi, Portuguese

---

---

---

Roi Fabito Fans Also Viewed