Lindsay Sloane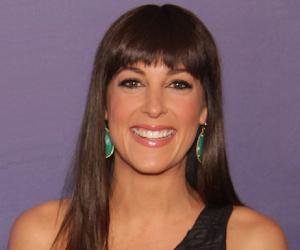 Quick Facts
Nationality: American
Famous: Actresses American Women
Age: 41 Years, 41 Year Old Females
Sun Sign: Leo
Also Known As: Lindsay Sloane Leikin-Rollins, Lindsay Sloane Leikin, Lindsay Sloane hails
Born in: Long Island, New York
Famous as: Actress
Height: 1.62 m
Family:
Spouse/Ex-: Dar Rollins (m. 2004)
father: Joey Leikin
mother: Renée Leikin
children: Maxwell Lue Rollins, Pippa Jean
U.S. State: New Yorkers
Continue Reading Below
Lindsay Sloane Leikin-Rollins is an actress from America who has garnered fame for portraying Valerie Birkhead in the TV series 'Sabrina the Teenage Witch' and Emily in 'The Odd Couple'. A native of New York, Sloane began acting when she was quite young. She had the full support of her family, especially her mother, in her pursuit of a career in the entertainment industry. In 1990, she made her TV debut as the voice of Big Sister in 'Why, Charlie Brown, Why?' She subsequently landed the role of Alice Pedermeir in the coming-of-age television drama 'The Wonder Years'. Her next important role was as Zoey in the sitcom 'Mr. Rhodes'. In 1999, Sloane made her film debut in the romantic-comedy 'Seven Girlfriends'. She is one of the few child actors to have made a successful transition into a young actress playing more mature roles. Some of her important film appearances were in 'Bring It On', 'Over Her Dead Body', 'She's Out of My League', 'The Other Guys', 'Horrible Bosses', and its sequel 'Horrible Bosses 2'.
Recommended Lists:
Recommended Lists:
Continue Reading Below
Career
Empowered by the support of her family, Lindsay Sloane started to harbour acting aspirations when she was a child. Her family relocated to Los Angeles, California, which helped her land more acting opportunities. When she was eight years old, she found herself an agent. One time, she had an audition, and her mother drove through the 1992 LA Riots so she could attend it.

Sloane began her career in the entertainment industry as the voice of Big Sister in CBS' Primetime animated TV special 'Why, Charlie Brown, Why?' She subsequently joined the cast of 'The Wonder Years' in season five, portraying Alice Pedermeir. Sloane went on to appear in six episodes of the show in total. In 1994, she made an appearance in an episode of the short-lived but critically-acclaimed teen-drama 'My So-Called Life'. In 1995, she made guest-appearances in the teenage anthology series 'CBS Schoolbreak Special' and Fox's sitcom 'New York Daze'.

In 1996, she landed the recurring role of Zoey Miller in the short-lived NBC sitcom 'Mr. Rhodes'. She subsequently made a series of guest appearances in a string of TV shows, including 'Promised Land' (1997), 'Working' (1997), and Dharma & Greg' (1997). In 1999, the video game 'Lands of Lore' was released. In it, she lends her voice to a character named 'Goldy'. She also appeared in the 1998 short film 'Win a Date'.

Sloane became a member of the main cast of ABC's sitcom 'Sabrina, the Teenage Witch' in season two in 1997, portraying Valerie Birkhead. She is the best friend of the protagonist and while she may seem as dim-witted at times, it is actually her lack of confidence that makes people question her intelligence. In season four, Sloane leaves the show when her character relocates to Alaska with her parents.

In 1999, she voiced Jackie Wallace in an episode of Kids' WB's 'Batman Beyond'. Sloane was cast in her first cinematic role in Paul Lazarus' romantic comedy 'Seven Girlfriends'. She played the role of Daphne. She subsequently appeared in the television movie 'Student Affairs'. Between 1999 and 2000, she played Patty in two episodes of Fox's period sitcom 'That '70s Show'. In 2000, she got the chance to work with Aaron Sorkin in his political drama serial 'The West Wing'. That year, she also appeared in her second feature film, the teen cheerleading comedy 'Bring it On'.

In 2000, she started playing Marcy Sternfeld, a parody of actress Tori Spelling in The WB's sitcom 'Grosse Pointe', which itself was a satire on shows like the night-time soap 'Beverly Hills, 90210'. The series was cancelled after one season.

Sloane portrayed the sixth wife in the comedy film 'The Six Wives of Henry Lefay' (2009), Jay Baruchel's former girlfriend in the romantic-comedy 'She's Out of My League' (2010), Mark Wahlberg's ex-fiancée in the action-comedy 'The Other Guys' (2010), and Charlie Day's fiancée in the black comedy 'Horrible Bosses' (2011) and 'Horrible Bosses 2' (2014).

From 2006 to 2007, Sloane appeared in yet another short-lived sitcom, 'Help Me Help You'. She shared screen space with Matthew Perry and Thomas Lennon in the 2015 television rendition of 'The Odd Couple'. She was cast as Emily, Oscar Madison (Perry) and Felix Unger's (Lennon) neighbour from the upstairs. The show concluded in January 2017 and was later formally cancelled.

Sloane has played the recurring role of Tina Steigerman in several episodes of USA Network's comedy series 'Playing House' (2014-17). She is set to star in filmmaker Drake Doremus' untitled project.

Recommended Lists:

Recommended Lists:

Continue Reading Below

Family & Personal Life

Born on August 8, 1977, in Long Island, New York, USA, Lindsay Sloane hails from a Jewish family. Her father, Joey Leikin, is a sales manager while her mother, Renée, is a children's librarian. Sloane was a student at Chatsworth High School in Chatsworth, California.

Sloane exchanged wedding vows with talent agent Dar Rollins in 2004. She gave birth to their oldest daughter, Maxwell Lue, on January 19, 2012. Their youngest daughter, Pippa Jean, was born on May 19, 2017.

Translate Wiki

to Spanish, French, Hindi, Portuguese

Article Title

- Lindsay Sloane Biography

Author

- Editors, TheFamousPeople.com

Website

- TheFamousPeople.com

URL

-

https://www.thefamouspeople.com/profiles/lindsay-sloane-43998.php

Last Updated

- March 15, 2019

---

---

---