James Harden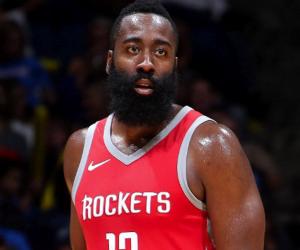 Quick Facts
Nationality: American
Girlfriend: Jessyka Janshel, Trina
Famous: Basketball Players American Men
Age: 29 Years, 29 Year Old Males
Sun Sign: Virgo
Also Known As: James Edward Harden Jr.
Born in: Bellflower, California
Famous as: Basketball Player
Height: 1.96 m
Family:
father: James Harden Sr.
mother: Monja Willis
Grouping of People: Black Men
U.S. State: California
More Facts
education: Artesia High School, Arizona State University
Continue Reading Below
James Harden is an American professional basketball player who currently plays for the 'Houston Rockets.' The 'National Basketball Association' (NBA) third seed started his professional career with the 'Oklahoma City Thunder' in 2009, before he was signed by the 'Rockets' in 2012. James is known for his impeccable skills and his ability to score high points that often help his team win crucial matches. His stellar skills and dedication toward the sport have earned him various accolades, such as the 'NBA Most Valuable Player' (MVP) and the 'PAC Player of the Year.' He has also been part of the 'All-NBA Team' and the 'NBA All-Star' team. James's facial hair has impressed his fans all over the world and has become his trademark. He became famous for his beard in 2009 and has not shaved it since. He has been nicknamed "The Beard," and his beard often appears in various songs and on T-shirts. James is also the first 'NBA' player to score 60 points while scoring a triple-double. He achieved the feat in 2018 and broke the previous record of 57 points made by Calvin Murphy. He also played for the national team at the 2012 'Olympics,' where the team won the gold, and at the 2014 'FIBA Basketball World Cup.' He mostly plays at the shooting guard position.
Recommended Lists:
Recommended Lists:
Continue Reading Below
Childhood & Early Life
James Edward Harden Jr. was born on August 26, 1989, in Los Angeles, California, to Monja Wills and James Harden Sr. His father was in the 'US Navy' at the time of his birth, and his mother worked as an administrator with 'AT&T' in Pasadena.

James's father spent a lot of time in jail due to his drug issues. James thus detached himself from his father and still refuses to use "Jr." as part of his name.

James spent most of his early life in the 'Rancho Dominguez' section of Compton. He had two siblings: a half-brother named Akili Roberson and a sister named Arnique Jelks.

James attended the 'Artesia High School' in Lakewood, California. He then joined 'Arizona State' and played for them.

Recommended Lists:

Recommended Lists:

Early Career

James started playing basketball while in school and continued through college, before he became a professional. He led 'Artesia' to 28–5 in his sophomore year.

In his junior year, he led 'Artesia' to the California state title, with a record of 33–1, and then 33–2 in the final year, with the tag of state champions intact. He was named a 'McDonald's All-American' and also earned his place on the second-team of 'Parade All-American.'

He also helped his 'AAU' team, 'Pump-N-Run Elite,' win the 2006 'Las Vegas Adidas Super 64 Championship.' However, his freshman year at 'Arizona State' was not exactly a dream.

His team, the 'Sun Devils,' was considered to be one of the weakest teams in the 'Pac-10.' With sophomore point man Derek Glasser and junior forward Ty Pendergraph, James led his team to a 9–9 conference record by achieving an overall score of 21–13 and tied for the fifth spot in the 'Pac-10.'

The 'Sun Devils' missed the 2008 'NCAA Tournament' but played in the 'National Invitation Tournament' (NIT) instead, winning twice, before the 'Florida Gators' defeated them. James was made part of the first-team of 'All-Pac-10' and was also named to the conference all-freshman team.

He was also named to the first-team of 'All-District' by the 'National Association of Basketball Coaches' (NABC) and the 'United States Basketball Writers Association' (USBWA). He also scored a career-high 40 points in an 88–58 victory over 'UTEP' during his sophomore year.

He also appeared on the cover of the 'Sports Illustrated' college basketball issue and was made part of the 'Wooden Award' pre-season watch list. In 2009, he was named to the 'All-Pac 10 Tournament Team' and was also named the 'Pacific-10 Conference's Player of the Year.'

Continue Reading Below

He was named a consensus 'All-American' and was considered for the 2009 'NBA Draft' after the end of the season.

Career

Harden was picked as third overall by the 'Oklahoma City Thunder' for the 2009 'NBA Draft' during the 2009–2010 season. Harden became the fourth-highest 3-point percentage-scorer under the age of 21 for 'NBA.'

He scored a season-high 26 points against the 'Golden State Warriors' in 2009 and was named to the 'NBA-All-Rookie' second team. By 2011–2012, he had become an important part of the team, with a season-high score of 40 against the 'Phoenix Suns,' which made him the first 'NBA' player in a reserve role to score 40 points, after Rodrigue Beaubois.

He also won the 'NBA Sixth Man of the Year' award. He helped the 'Thunder' reach the 'NBA Finals,' where they were defeated by the 'Miami Heat.'

In 2012, Harden signed a contract extension for $80 million with the 'Houston Rockets,' which was the result of the inability of Harden and the 'Thunder' to reach a conclusive deal. During the season, he delivered remarkable statistics, averaging 25.9 points, 4.9 rebounds, and 5.8 assists.

His statistics made him the fifth player in the history of 'NBA' to reach 2,000 points in a single campaign. He joined the league of Gilbert Arenas, Kobe Bryant, and Jerry Stackhouse, to become the fourth player to record at least 600 free throws and hit 150 or more 3-pointers in one season.

He was also named to the 2012–2013 'All-NBA Third Team, which marked his career's first 'All-NBA Team' selection. In the 2013–2014 season, he was chosen as a reserve for the 2014 'NBA All-Star Game.'

Continue Reading Below

He won the 'Western Conference Player of the Week' honor twice during the season and scored a season-high 43 points against the 'Sacramento Kings.' He was named to the 'All-NBA First Team' at the end of the season.

Toward the beginning of the 2014–2015 season, Harden was a contender for the 'MVP' honor and scored a career-high 50 points against the 'Denver Nuggets,' followed by 51 points against the 'Sacramento Kings,' becoming the first 'NBA' player ever to score two 50-point games in a season. With numerous triple-double scores in the season, he was again named to the 'All-NBA First Team.'

He also managed to help his team win their first division title since 1994 and became the second seed in the 'Western Conference.' In 2016, he started playing from the point guard position and was named the 'Western Conference Player of the Week' for the third time.

After scoring his 14th triple-double of the season against the 'Philadelphia 76ers,' Harden became the first player in 'NBA' history to have multiple 50-point triple-doubles in a season. He became the first 'Rockets' player to score 40 points in less than 30 minutes, in a match against the 'Phoenix Suns.'

He finished the season with 22 triple-doubles, becoming the first 'NBA' player to finish a season with at least 2,000 points (2,356), which included 900 assists (907) and 600 rebounds (659). In 2017, he signed a four-year extension contract that gave him a six-year deal for approximately $228 million. This was the richest contract ever signed in the history of 'NBA.'

The deal will last till the 2022–2023 season. He entered the season with an average of 22.1 points and 5.7 assists per game.

He scored a career-high 56 points in a winning match against the 'Utah Jazz,' a point less than Calvin Murphy's 57-point record in 1978. He became the first player to score 20 points in each of the team's first 20 games of a season, winning the 'Western Conference Player of the Month' for the fifth time.

Continue Reading Below

Despite his score of 50 points, his team's 14-game winning streak ended in a 122–116 defeat by the 'Los Angeles Lakers.' However, Harden became the first player in the franchise's history to score back-to-back 50 points, in a match against the 'Los Angeles Clippers.'

He suffered from a hamstring injury and missed seven games. The 'Rockets' won 60 games and finished at the first position for the first time in the history of the franchise, with 65–17.

Harden was also part of the national team at the 2012 'Olympics,' where the team won the gold medal. He was also part of the national team that won the 2014 'FIBA Basketball World Cup.'

He withdrew his name from the team before the 2016 'Olympics.'

Awards & Achievements

James is a six-time 'NBA All-Star' and a five-time 'All-NBA Team' honouree. He was named to the 'NBA First Team' four times. He was named the 'NBA MVP' in 2018.

He was also voted as the 'National Basketball Players Association's 'MVP' for the 2014–2015 and the 2017–2018 seasons.

Personal Life & Legacy

James was in the news for being in a relationship with Khloé Kardashian in the summer of 2015. The couple broke up the following year because of his apparent discomfort with the media attention.

He was previously rumoured to be in relationships with rapper Trina and 'Instagram' model Jessyka Janshel.

In 2015, he signed an endorsement deal of $200 million with 'Adidas' for the next 13 years. His trademark beard has its own following on social media.

He is also a philanthropist and has established '3 The Harden Way Inc.' to provide better opportunities for young people. In 2017, he pledged $1 million in support of the victims of Hurricane Harvey.

Translate Wiki

to Spanish, French, Hindi, Portuguese

Article Title

- James Harden Biography

Author

- Editors, TheFamousPeople.com

Website

- TheFamousPeople.com

URL

-

https://www.thefamouspeople.com/profiles/james-harden-14922.php

Last Updated

- August 06, 2018

---

---

---