Alexander Povetkin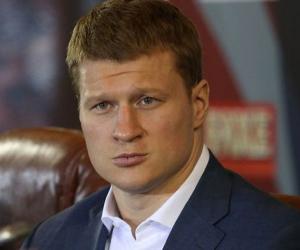 Quick Facts
Birthday: September 2, 1979
Nationality: Russian
Famous: Boxers Russian Men
Age: 39 Years, 39 Year Old Males
Sun Sign: Virgo
Also Known As: Alexander Vladimirovich Povetkin, Sasha Povetkin
Born in: Kursk, Russia
Famous as: Professional Boxer
Height: 188 centimetre
Family:
Spouse/Ex-: Irina
siblings: Vladimir
children: Arina
More Facts
awards: Order of Friendship
Continue Reading Below
Alexander 'Sasha' Povetkin is a world-class professional boxer from Russia. Alexander started exhibiting signs of a great future boxer even when he was just an amateur. By the time he was 21, he had already won countless awards and honours. He had a successful kickboxing career before he entered the world of professional boxing. He won gold medals in 'Heavyweight' at '2003 World Championships', 'European Championships' (in 2002 and 2003), and 2004 Olympics. He took a break from professional boxing for a year, and came back in 2005 with a firm decision to make professional boxing his career. His biggest career feat till date is the 'WBA (Regular) Heavyweight Championship' from 2011 to 2013. In 2016, he was accused of using a forbidden substance (meldonium) before his fight against Deontay Wilder, and again for using Ostarine. The ban was, however, lifted later in 2017.
Recommended Lists:
Recommended Lists:
Continue Reading Below
Childhood & Early Life
Povetkin was born on 2 September, 1979 in Kursk, Russian SFSR, Soviet Union. From a young age, Povetkin was into learning various forms of martial arts, and remained one of the best athletes throughout his schooldays.

It all began when his father took Alexander to a boxing gym. He started learning boxing, and also tried his hands on wushu, karate, hand-to-hand fighting, kickboxing etc.

Recommended Lists:

Recommended Lists:

Early Career

Povertkin started as a kickboxing professional, and ended up winning 'World Junior Championship' (1997), 'Baltic Countries Cup' (1998), 'W.A.K.O World Championships' (1999) etc.

After he left kickboxing for a career in professional boxing, he started winning a lot of tournaments as an amateur. The biggest feat of his amateur career is the gold medal win at the 2004 Athens Olympics in super-heavyweight.

After winning the Olympic gold, he took a year off to meet several people and promoters from professional boxing to make a decision about turning pro. He finally made his professional debut on 11 June 2005 in Germany against Muhammad Ali Durmaz, and defeated him via TKO (second round).

Professional Career

In 2005, he faced four boxers, and defeated all of them. He defeated Cerrone Fox via fourth round KO, John Castle via first-round knockout, Stephane Tessier via unanimous decision and American Willie Chapman through a knockout.

In 2006, he stated very clearly that he wanted to have five fights. He began with second round TKO win over 1992 Olympic bronze medal winner Richard Bango of Nigeria.

His biggest fight of the career came in April 2006, when he faced veteran Friday Ahunanya whom he defeated via unanimous decision. Next, he defeated Ecuador's Livin Castillo, which was followed by a win via fifth-round TKO against another tough challenger, Ed Mahone of the USA.

In his last fight of 2006, he faced ex-Cruiserweight champion Imamu Mayfield in Russia. Povetkin was able to defeat him, taking his score to 10 wins in two years.

Continue Reading Below

In 2007, he faced experienced boxers like David Bostice, Patrice L'Heureux, Larry Donald—who had defeated boxers like Evander Holyfield, but he managed to defeat them all. He had an opportunity to face the 'IBF (WBO) Champion Wladimir Klitschko through a four-person tournament to challenge the champion.

He wrestled though his opponents to face Wladimir in 2008, but before facing him, he had to withdraw due to some injury. The fight never took place.

In 2009, he came back and defeated PanAm amateur champion Jason Estrada by unanimous decision. He continued being unbeatable, even after his injury, and ended 2009-10 with two wins against Leo Nolan and Javier Mora.

In 2011, after Wladimir Klitschko got upgraded to be 'Super Champion', the title of 'WBA (Regular) Champion fell vacant. On 27 August 2011, Povetkin faced former 'WBA' champion Ruslav Chagaev, and won with 117-113, 117-113 and 116-112. Evander Holyfield himself entered the ring to congratulate him, and later showed a desire to challenge him for a match.

In 2011, Povetkin was all set to face American veteran Cedric Boswell - the heavyweight contender who had a winning streak of 14. In the fight, Povetkin threw some hard jabs and punches at Boswell, and by the 8th round, Boswell fell down, an Povetkin won via KO.

His second defence came against 'WBO Cruiserweight' Champion, Marco Huck, on 25 February, 2012. Even though he won the fight via a majority decision, the fight ended quite close with the scorecard being 114-114, 116-113, and 116-112.

In 2013, he faced and defeated Andrzej Wawrzyk in a title defence bout that he chose voluntarily. He brutally defeated his opponent, and the referee had to intervene to stop the fight.

Continue Reading Below

In October 2013, Povetkin faced Wladmir Klitschko, but the latter defeated him via unanimous decision. The fight became the most watched sporting event on Russian Television.

In 2014, Povetkin came back with a bang as he defeated Manuel Charr, and claimed 'WBC International Title'. Later that year, he won 'WBC Silver Title' by defeating Carlos Takam.

In 2015, he defeated Mike Perez in just 91 seconds, and claimed the title shot. He, then faced Mariusz Wach, but the match was cancelled mid-way as Wach was unable to continue.

In 2016, before his fight with Deontay Wilder, Povetkin failed a drug test. He claimed that he took meldonium before it was banned, but his contention was held false. However, a new doping test claimed that Povetkin was clean. The fight was, however, postponed.

In 2017, Povetkin again tested positive for taking Ostarine.

Meanwhile, Povetkin had almost defeated Johan Duhaupas in the 6th round, but the match was stopped due to Johan's on-spot injury.

On March 3rd, 2017, Povetkin was fined $250,000 and imposed with an indefinite ban by 'World Boxing Council' for failing drug tests. The ban was, however, lifted on 8th December, 2017.

His comeback fight happened against Andriy Rudenko for 'WBO International Heavyweight Title' in a fight which was named as 'Russia vs. Ukraine'. Rudenko was on a seven-fight winning streak, but Povetkin destroyed him completely. Rudenko wanted to pull out of the fight from the first round, but he was asked to try and keep going due to fans' excitement. Povetkin also won 'WBA Continental Title', along with 'International Heavyweight Title', and jumped to #13 ranking.

Personal Life & Legacy

In July 2013, Povetkin married Yevgenia Merkulova in the Czech Republic. He has a daughter, Arina, with his ex-wife, Irina.

His brother, Vladimir Povetkin, is also a light heavyweight professional.

Translate Wiki

to Spanish, French, Hindi, Portuguese

Article Title

- Alexander Povetkin Biography

Author

- Editors, TheFamousPeople.com

Website

- TheFamousPeople.com

URL

-

https://www.thefamouspeople.com/profiles/alexander-povetkin-11603.php

Last Updated

- January 08, 2018

---

---

---